Global collaboration integrates new Evolution project
Monday, January 15th, 2018
Innovation & Projects Engineer Ignacio Garcia will apply learnings from a month-long stint in Australia to boost the development of Maptek Evolution enterprise-level scheduling in Chile.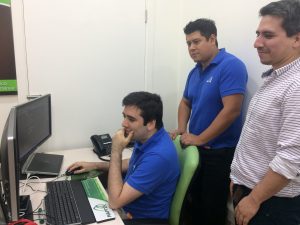 Evolution is an agile, dynamic solution for targeting complex, real-world challenges, enabling users to maximise the value of a deposit without compromising operations.
Ignacio spent four weeks in Perth in October and November focused on integrating a new project with the Evolution codebase, following a productive global summit in Colorado in October, where development agendas were shared with customers.
'The project's objective is to determine the phases of a pit, taking into account design parameters but also looking to find the best Net Present Value (NPV) out of the possible solutions,' Ignacio says.
'Evolution currently has tools to determine and edit phases for a pit, and the idea behind this project is to complement those tools by giving it an initial proposal of phases the user can work on.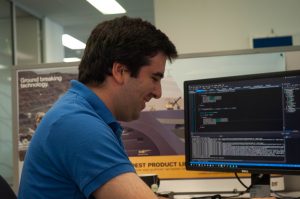 'While in Australia I also took advantage of the Evolution team's knowledge of genetic algorithms to help improve the project.'
Over the past six years Ignacio has worked in Maptek's Viña del Mar office, predominantly developing Lava scripts for clients.
Maptek's global software development is enhanced by regular collaboration between international teams. Ignacio says his trip has given him many new ideas to take back to Chile.
'The Evolution team in Australia understands firsthand the inputs and outputs of the projects we are working on in Chile, and vice versa,' he says.
'One of the things I am looking to implement in Chile is the way the Australian Evolution team shares its learnings.
'I really enjoyed Perth as a city since it has lots of reasons to get outside and explore. I particularly liked Kings Park.'