Latest mine scheduling tools with Maptek Evolution
Tuesday, July 12th, 2016
New tools in Maptek Evolution improve performance of mine scheduling processes and deliver greater project value.
Evolution 4.5 features the stunning new graphics environment which already provides Maptek I-Site, BlastLogic and Eureka software users with a superior visualisation experience.
'The high performance graphics engine can display and manipulate large models of up to millions of blocks, along with the solids and triangulations that make up those blocks,' said Steve Craig, Maptek Manager of Scheduling Solutions.
Scheduling is about ensuring value of your assets can be maximised at a strategic level.  However, it is crucial to ensure these plans are practical and can be implemented at a more tactical, shorter time frame level as well. Evolution Strategy and Origin allow the the engineer to achieve just that; practical, high value schedules that can be implemented at a production level.
'Mines are complex environments and scheduling production is just as complex. Planners must consider cut-off grade, route and equipment allocation, cycle times, fuel burn and waste dump locations.'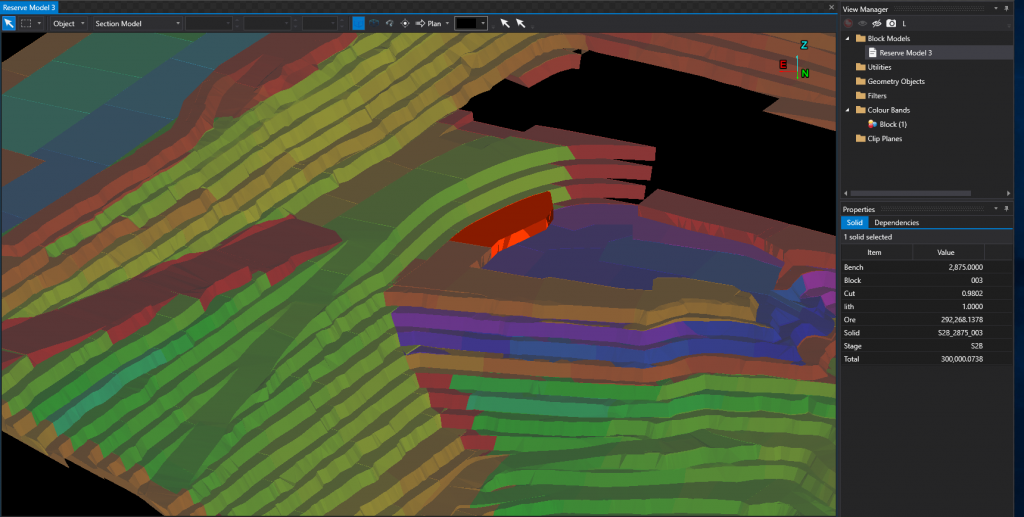 'There's universal benefit in being able to present an integrated, holistic 3D view of a mine site by simultaneously displaying multiple models, waste dumps, haul networks and topography.'
Evolution Phase is a new product in the family of Evolution products. This new product allows the engineer to build practical phases from a series of optimal shells very quickly. This allows the engineer to rapidly cycle through this process to ensure value is maximised from pit optimisation through to schedule optimisation. The old adage that "schedules are only as good as the phases that are designed" rings very true.
Evolution Strategy maximises net present value and generates cut-off grade optimisation policies. New options allow users build blend constraints and to track and report multiple elements and contaminants per process and/or destination. Existing stockpiles can be modelled with tonnes and grade items.
Users can now specify a global minimum cutoff as well as minimum and maximum accumulation constraints for multiple process.
'If users want to run Strategy without cutoff grade optimisation, they can now fix their own cutoff grade policy,' added Craig. 'The optimisation process then determines the best extraction sequence for that setting. More importantly, the users can simply turn this feature on and then determine the value adding capability of running with cutoff grade optimisation. In most cases we will see a significant uplift in value of up to 25%.'
Improved charting and export of schedules across multiple elements and processes is also included in upgrades to Strategy in this release.
Evolution Origin generates detailed scheduling scenarios from life-of-mine to short term planning horizons and can apply optimisation policies generated by Strategy.
In version 4.5 users can now set maximum constraints per stage/group/period for manipulating sequences through the model. Specifying multiple truck types to work in the same mining area allows for mining different material types with different equipment.
Improved interoperability for haul network creation allows users to drag and drop a haul network created in Vulcan Envisage into Evolution to automatically configure the schedule network. Multiple digger fleets can also be allocated.
Other features of the Evolution 4.5 release include selecting imperial and metric units and currency and customising settings that persist into reporting and tabulations.  
'Evolution 4.5 adds usability and variety to confirm its place among next generation technology,' said Craig. 'Mines can schedule their operations using our advanced optimisation techniques, which by their very nature are designed to mimic reality and complexity. Interoperability with the resource model, integrated workflows and parallel processing technology, and now the latest visualisation engine gives you a truly world class scheduling solution.'
Evolution 4.5 is available now.