Let me be frank – Vulcan Gantt Scheduler scores big
As a Virginia Tech alumni, I'm proud of so many things. Any other Hokie across the globe would immediately understand my excitement and loyalty to the Hokie Nation. For the rest of you, let me try to explain. If I sum it up into two things, it's our motto Ut Prosim (That I May Serve) and BEAMERBALL! That's the whole "Let Me Be Frank" part.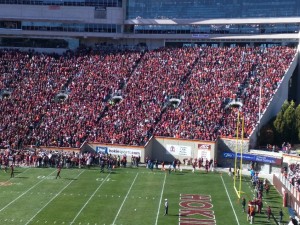 That I may serve might immediately generate thoughts of community service. While not wrong, and a great application of Ut Prosim, another way I fulfill this is through my work at Maptek. A large focus of our work as technical services folk is to understand client challenges and provide solutions. How I've done this is through collaborating on the development of our integrated scheduling solution, Vulcan Gantt Scheduler.
Now on to the "Let Me Be Frank" part. Mostly, I like the play on words and the opportunity to bring up Beamerball, but if you read the synopsis of this book about Frank Beamer, the most winning college football coach who led a not so great team into one that is nationally recognized, and did it with class the entire time, you'll realize this is a man with commitment, compassion, respect, drive, and above all high integrity. It's a bit of a Cinderella story.
Okay, am I ever going to get to the point, or will I keep rambling on about how awesome Virginia Tech is? I'll get to the point. Vulcan Gantt Scheduler is a bit of a Cinderella story. We all know that Maptek has been around for over 30 years and is a leader in the 3D modeling space, providing innovative solutions. However, one thing you may not know is that we have been working hard to provide an integrated underground scheduling solution.
The Vulcan Gantt Scheduler was first released with Maptek Vulcan 9.1.0 in January 2015. This first release was a major milestone. And after many demonstrations and sales efforts, we received a lot of feedback from customers. Some feedback was positive, a lot of feedback was, well, constructive. So constructive that we recognized that we still had a long way to go to make this a premier solution. We doubled our development resources and really amped up our development timeline.
Now, just over a year later, Vulcan Gantt Scheduler has much more to offer. We've added more leveling capabilities, coloring options (both with the design and gantt bars), automatic filter generation, and precedence visualization to name a few – all while speeding up performance and increasing capacity. No enhancement is too small either, adding much functionality directly tied to day-to-day user experiences and improving the product stability through defect management. All of these development items were added to streamline the process and increase user efficiency while scheduling.
Intrigued? Watch the Video coming in May and sign up for my Webinar in October 2016. You'll see big changes just over the next 6 months.
Now, this is just one example of commitment, dedication and service here at Maptek.
---
Comments (0)
Leave a Reply