Productivity
Vulcan 9.1 delivers improvements across the board. We want to ensure customers spend less time in processing data, allowing more time for critical analysis and decision making.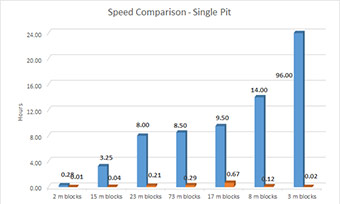 Vulcan 9.1 delivers improvements across the board. We want to ensure customers spend less time in processing data, allowing more time for critical analysis and decision making.
For example, with Pit Optimiser, a calculation that took 4 hours now takes 3 minutes in Vulcan 9.1.
Where previous versions of Vulcan had to simplify data to solve the problem, the new version will run a calculation in minutes.
Pit optimisations are considerably faster. Improved analysis and viewing tools allow more scenarios to be run in the same timeframe. The result is a superior design based on 'what if' scenarios.
With the new Gantt Scheduler users can create, sequence, allocate resources, animate scenarios and report activities efficiently and transparently.
With Implicit Modelling, users can set up large, multi-domain geology models with confidence that all the downstream processes can handle the complexity and size of the data. Enhancements take advantage of computing GPU. There's virtually no limit on what can be run.
Underground mine engineers will benefit from the faster, streamlined approach to long term strategic planning and detailed design tasks. The introduction of the Gantt Scheduler sets a new standard in integrating design and scheduling.
Underground mine design is fully automated. Click a button and create the mine design at a strategic level. Users can change parameters and get an alternative design in seconds. These scenarios would take days to run manually.
Users as experts
Vulcan 9.1 continues the direction Maptek set several years ago. We provide powerful tools that support geologists, mine engineers and other professionals in achieving their design and modelling goals.
Both Pit Optimiser and Level Designer provide quick previews before running calculations in detail. Users can decide which designs are worth developing.
Pit Optimiser quickly runs multiple scenarios. Users can identify the most effective design without spending days on it.
Level Designer, when coupled with Stope Optimiser, allows users to run totally different layouts without designing each level in detail. A combination of scenarios can be chosen for the final design.
New Implicit Modelling builds on tools delivered in Vulcan 9. Geologists have more control over the process and can have confidence in the results.
More integration
Vulcan 9.1 delivers tighter integration of geological modelling, mine design and scheduling. Gantt Scheduler is linked directly with Stope Optimiser and Level Designer tools.
With Pit Optimiser everything is created directly in Vulcan. No need to regularise and manipulate models. No need to import/export data for processing.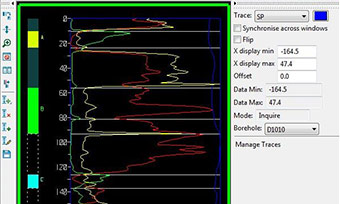 Other features
In other upgrades, stratigraphic modelling allows users to combine different modelling methods into a 'hybrid' approach which makes best use of their available data.
A new interface streamlines interpretation of geophysical information in borehole databases. CAD data is now handled by graphics card drivers for improved performance, building on support for triangulations and block models introduced in Vulcan 9.

Gantt Scheduler
Vulcan Gantt Scheduler is a new resource and activity based tool targeting underground scheduling.
Gantt Scheduler is straightforward to set up and run. Users can create activities direct from mine designs in Envisage.
Attributes can be generated on the fly, allowing schedules to be seamlessly updated when designs are modified.
An animation option allows partial animations of designs for checking and publishing scheduling information.
Direct connection between Envisage designs and Gantt Scheduler allows selected or filtered activities from the Gantt chart to be displayed on screen.
Resource levelling can be applied to activities. Users can prioritise activities when more than one is available.
Users can report summaries by varying timelines, and export to csv file format.
With geological modelling, mine design and scheduling all handled in Vulcan there is no need for import/export routines or dealing with different data and file types.
Gantt Scheduler improves workflow and scheduling output through an interactive design and scheduling experience.

Implicit Modeller
New Implicit Modelling tools provide more control for users generating complex geological domains.
New features include sample selection tools and triangulation output controls.
More complex settings can be modelled into domains, including faulted geometries and on the fly combinations of geological database codes.
A real-time instant feedback tool allows users to preview and validate parameters before creating models.
Quick access to section views allows users to adjust modelling parameters in real time. 'What if' scenarios can be previewed before building the entire model.
Implicit Modelling can be scripted to automate the design process based on changes in drillhole data. Users can also batch implicit modelling within larger processes, streamlining the modelling workflow.
Polygons are honoured for more accurate results. The ability to view and interactively manipulate ellipsoids reduces manual pre-processing and improves workflow.


Level Designer
Level Designer creates underground level development with hundreds of crosscuts in minutes, saving hours of manual drafting time.
Users can create long term strategic plans and detailed design phases.
Underground mine engineers can design multiple scenarios to determine an optimal plan to access stopes. Previously, each stope access crosscut was drawn manually, taking days or even weeks.
Engineers are still in control with Level Designer, using their expertise to finetune the design. The new option gives design strings and cost information for each scenario.
Engineers can make informed decisions, with the confidence that they have fulfilled their due diligence.
The full design-develop loop can now be done entirely in Vulcan.
Stope Optimiser generates optimised stope shapes. Level Designer leverages Stope Optimiser data to design access points, and information is then scheduled in Gantt Scheduler.
Vulcan Ring Design tools are used to drill out the stope for handover to production engineers.
Underground design time is now set to be significantly decreased.