Design prize illustrates opportunities for young engineers
Friday, December 10th, 2021
---
A smaller mining engineering student cohort is giving current undergraduates such as the 2021 Maptek Mine Design Prize winners greater job opportunities and the chance to emulate the success of previous victors.
This year's annual prize, contested by groups of final year University of Adelaide Mining Engineering students, was won by Cheng Li, Claudio Wiehe Jr and Yixuan Xiang.
Groups were given a resource block model for a copper-gold project and had to convert this to a mining reserve for extraction by both open cut and underground mining methods.
Claudio said communication and understanding were the key to the team's success.
'We know that we will be workmates in the future and we will need to keep helping each other in order to succeed,' Claudio said.
'After a lot of effort I feel amazed to be recognised by Maptek, a worldwide company that provides optimised tools for the mining industry.'
Cheng, who is known as Ethan, has started work at Maptek full time with the Evolution mine scheduling team after working on a part time basis whilst studying this year.
'It's one of my greatest achievements, I'm so proud and excited that I won this Maptek Mine Design Prize,' he said.
'Mining is one of the best industries in Australia and my interest in engineering attracted me to mining engineering.
'I enjoyed learning Vulcan and this project definitely reinforced my interest to pursue a career in mining engineering.'
Yixuan is following in her father's footsteps with her choice studies.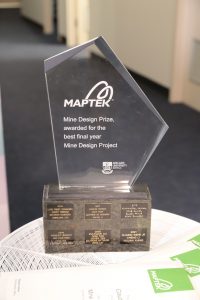 'My father graduated as a mining engineer in China but worked as a civil engineer for many years,' she said.
'When I had a chance to study here in Australia, which is rich in resources, I thought it might be a good time and chance to study mining engineering.
'As a graduate mining engineer, this prize definitely gives me confidence to go deeper in the career. It proves that the hard work will pay you back in the end.'
Maptek Senior Technical Sales Specialist Steve Sullivan, who provided Vulcan training and assessed the entries, said the winning team provided the most comprehensive study of the project and were able to manage the important transition from open cut to underground method better than their peers.
Maptek has supported the University of Adelaide since 2010 when it commenced the mining engineering undergraduate course.
'The strength of the commitment to support students was highlighted to me, when this year's winners were examining past winners and saw names of people that now have positions of seniority in industry,' Sullivan said.
'In a couple of cases, the current winners had applied for graduate positions to past winners. A nice connection.'
He said there had been a reduction of enrolments in mining engineering across all Australian institutions in the past few years.
'As a case in point, this year there were 13 in the course, whereas a few years ago class sizes were 40-50+.
'This benefits the current crop of students, as they all step straight into jobs. In many cases they have the choice of multiple positions from which to select to start their career.'
He said there was a need for more students to study and graduate as mining engineers to help the industry grow and maintain the standard of living to which we have all become accustomed. 
Maptek has a proud history of supporting students and academic institutions.
You can find out more about Maptek University Partnerships here: www.maptek.com/university