Contact Maptek BlastLogic
Benefit Studies
Purchasing Options
BlastLogic Brochure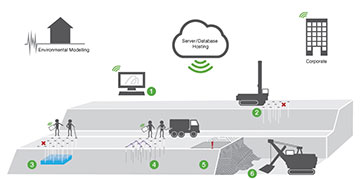 Instantly capture, analyse and share data at critical stages in your drill and blast process.
Immediate access to data so you can make decisions. Reduce incidents, control costs and increase performance consistently with BlastLogic.
BlastLogic
Mining's most advanced drill & blast system.
Lower risk, better results, greater productivity.
BlastLogic delivers greater production insight enabling better decision making. Instant data connection and visualisation in the field or office.
Why BlastLogic?
Flexible drill and blast system designed to work in the demanding production environment. Access to data is immediate and universal across users, simplifying and accelerating routine tasks.
What is BlastLogic?
Innovation in blast design, modelling and analysis. Centralised record of all operational blast data. Interfaces with leading drill navigation systems. A business wide solution that can be scaled to suit your operation.
How does it work?
Superior blast performance is achieved by fusing distinct data sets associated with mine planning, drill guidance, field survey, load design parameters and post-blast evaluation to create a more intelligent blast design.
Rapid identification of deviations at critical stages so that production improvements from drill & blast can be achieved.
Catalogue blast outcomes by tracking blast performance factors, reconciliation to design, production reporting and inventory management.
What can users do?
Quickly create and compare drill, charge and tie-up design scenarios. Accurate execution in the field is tracked in real-time.
The BlastLogic Tablet dynamically updates plans in the field. The simple interface ensures effortless data entry that is instantly synchronised or cached.
Pre-empt risk, productivity and cost issues before they emerge in the business.
Load and compare multiple production patterns in minutes!
Increase productivity
Achieve greater than 9% production gain for shovels. Reduce commodity loss by up to 20%.
Get the fundamentals of drill and blast right every time.
Continuous improvement
Catalogue blasts and trends over time. Correlate data and look for nuances.
Free up time, focus on incremental improvements for overall productivity gains.
Reduce costs
Optimise and track the use of explosives. Achieve optimum material size for efficient processing.
Improve drill & blast decision making on the fly.
Safety
Greater control for over-pressure, vibration and air blast.
Clear insight from deeper granularity in process and risk.