Contact Maptek I-Site
More about I-Site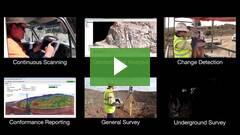 Users Area
Hardware
Long range laser scanner with integrated high resolution digital panoramic camera and survey workflow.
Versatile mid-range laser scanner for surface and underground survey applications.
Flexible, cost-effective solution for continuous laser scan survey and fast, accurate stockpile volumes.
A ruggedised, shock absorbing system for mounting I‑Site laser scanners onto existing site vehicles.
Capture small areas in detail with great accuracy for forensic, industrial plant and underground survey.
Software
Intuitive point cloud processing, modelling and analysis tools for mining and industrial survey.
Modelling and CAD tools for calculating volumes between surfaces, within voids, and between solids.
Software tools for processing point cloud data for topographic survey and volume calculations.
Dedicated tools to analyse laser scan data and deliver objective, reliable data for legal presentations.
Tools for geologists and geotechnical engineers to analyse structures and surfaces to identify structural weaknesses.
Other Laser Scanning Solutions
An easy-to-use system for quickly comparing excavation against designs in the field to support operational efficiency.

An integrated spatial solution for tracking and monitoring surface movement in open cut mines and civil environments.