Maptek Services
Our Services team not only provides the product, they are the product. Our experienced mining engineers, geologists and surveyors combine their expertise with the best mining technology to help our clients achieve their goals. When utilizing Maptek Vulcan and I-Site tools, our experts work with the users to optimize product performance and maximize a mine's potential.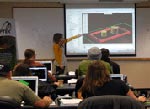 We instruct our clients on all aspects of Maptek Vulcan and
I-Site, and customize each course to ensure that our clients needs are met.
Learn more >>
Our highly trained global support staff provides rapid problem resolution and expert assistance to help improve outcomes for client operations.
Learn more >>
I-Site Technical Services offers a full range of laser scanning services from field work to forensic applications, and I-Site Studio software assistance.
Learn more >>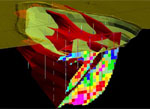 From beginning to end, Vulcan Technical Services provides consulting throughout the entire life of the mine, giving them the right tools for success.
Learn more >>