Learn tips and tricks, discover new tools, and brush up on your skills in these short tutorials from Maptek experts.
More Bite Size Videos
---
Featured Bite Size Video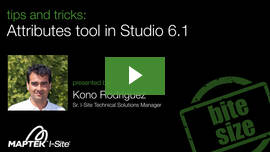 Tips & Tricks: Attributes tool in I-Site Studio 6.1
Learn how to save filtered scans using Attributes in I-Site Studio 6.1. Filters can be saved for single or multiple scans.