For Perilya Geology Superintendent Jared Broome, Maptek is the place he goes to get the resources he needs to do his geology and mineral resources estimation work.
Throughout more than 20 years of relying on Vulcan as his go-to tool, Perilya Geology Superintendent Jared Broome has been impressed at how it's stayed at the cutting edge of mining technology.
Jared, who has completed extensive studies in geology, mine engineering and geostatistics, recalls his first job using Vulcan involved redoing the model and geology of the Potosi open pit in Broken Hill circa 1998.
'A lot of the block models that we made back in those days might have taken overnight to run,' Jared says.
'What I've seen with Vulcan over time is it's kept pace with the increases in speed in computing and other things. Multithreading and other tools that have come to the fore now let me make a block model within an hour.
'The user interface is easy to work with and I've seen a lot of changes that have come about.
'The other thing that I've noticed with Maptek is that they listen to their user base.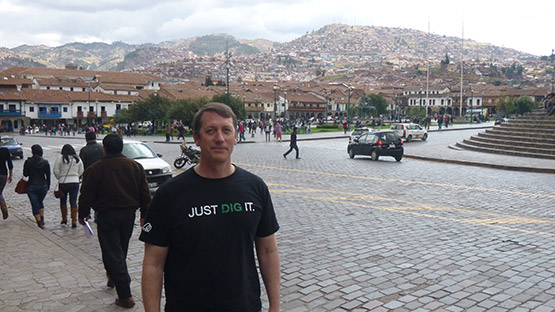 'Often if there's an improvement requirement, this will come on board in subsequent versions and I've found that to be quite responsive.'
Introduced to the resources industry by his father, an avid mineral collector, Jared says mining makes a strong contribution to society as a primary producer.
He is passionate about mentoring the new wave of professionals.
'I always benefited a lot from my peers and mentors throughout the early years of my career working for companies like CRA, WMC, Pasminco, Perilya and then MMG.
'It's now my opportunity to give back to the next generation of geoscientists and also mining engineers and other people in the mining profession.
'We actually value this so much that every week in our group we hold a weekly meeting that has a training component.
'I once heard someone say to me, you know 'what if you've got people in your team, and you train them and then they leave?' and the opposite to that is 'what if you don't and they stay?'.
'Your team is only as good as you make it, you really need to build that capability.'
Maptek and its team has played an important role in Jared's career and he is pleased to play his part in celebrating the 2021 milestone.
'It's great to see a company like Maptek providing the services that they have over a 40-year period.
'To me this is amazing, and to see them go from strength to strength has been important.
'For me, it's been the place that I go to get the resources I need to do the work that I do with geology and mineral resources estimation.'