Maptek solutions play an important part in helping PSMs civil construction clients move from traditional 2D methods into the 3D world.
In 2009 Richard Brehaut joined PSM, a specialist geotechnical consulting firm where he works as an Associate Engineering Geologist. PSM provides expert advice in soil mechanics, rock mechanics and water across a spectrum of markets. This has seen them adapt their skills gained from a strong period of mining in the early 2010s into the recent infrastructure boom that has included road, dam and tunnel projects.
'Some of the specialist modelling skills we developed within our mining business have been transferred across to our civil projects,' Richard says.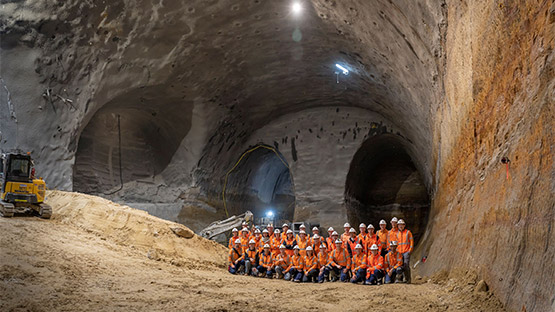 'In the past a lot of the civil work was 2D and now clients are expecting us to deliver interpretations and our models in 3D, so Maptek Vulcan and Eureka have been fantastic for that.'
PSM supports clients through all of the design stages from tender to detailed design and construction where Richard says 3D as-built models can be particularly useful in construction meetings to inform aspects such as support selection and advance rates.
'It has become a really powerful tool for communicating our understanding of the geological environment, design considerations and the associated geotechnical risk. This is particularly useful where the client does not necessarily have a strong background in these areas.'
'The visualisation that Maptek provides really helps - we can do fly-throughs, cut sections, query data - whatever questions there may be regarding the ground model and its interaction with design, we can look at the available information and help them to make informed decisions.'
Richard studied a Masters of Engineering Geology at the University of Calgary in Christchurch before kicking off his career with a summer internship in 2007 at Rio Tinto Iron Ore in WA's Pilbara region.
'The internship with Rio provided some great practical experience that I was able to use when I went back to university and started developing my interest in the resource industry from there.'
'We have the luxury of being able to work on some really diverse, world-class projects here at PSM. Through my time I've worked on mining projects in Laos, Papua New Guinea and New Zealand, as well as several major civil projects using Maptek.'
'I think that's one of the attractions in our field - it's always changing - engineering geological models fit into a wide range of packages and environments and getting to apply those skills through different projects has definitely been one of the highlights.'