Having worked for the company in both South America and Europe across nearly 20 years, Senior Geologist Edia Briceno vouches for the fact that Maptek values are universal.
'I have been lucky enough to have worked in two different Maptek offices,' Edia says.
'These two regions have many differences - a different language, different market, different individual culture - but have a common sense of what it is to be part of Maptek.
'I felt integrated into the Europe office from day one and part of this fast integration is because Maptek culture transcends regional borders.'
Edia particularly enjoys implementating solutions for new clients and says getting to know them, bringing together their data and gaining an understanding of what problems you can help solve is an exciting time.
One of her favourite implementations was for Newmont Ghana which began as a consulting job to help construct the geological model for several projects.
'At that point, this was several years ago, the geologists on site still were using paper sections to do the interpretation, so the change to interpretation on the screen was huge.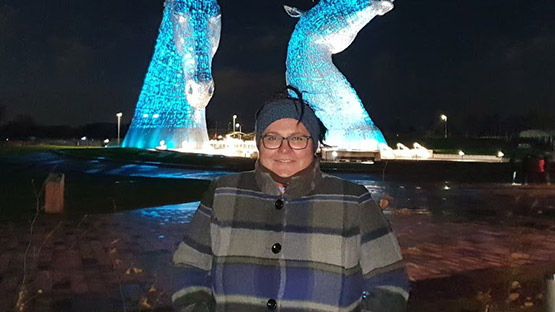 'After this work was done, we did several training sessions for geologists on site, after a while they were able to keep the models up to date and modelling other projects.
'I am proud of this work because we pass the knowledge on to our clients - we are not doing the work for our clients, we are finding solutions for them, implementing and passing the "how to".'
Edia witnessed the Chilean office grow from 16 to 60 people and has also seen the Edinburgh office expand.
'The diversity of products has increased dramatically in my time at Maptek. I remember when I started Vulcan, I-Site Studio and the laser scanner were the products that we offered.
'In the last 10 years we have increased our range to cover all the mining processes with Eureka, Evolution, Epoch, PerfectDig, Blastlogic and Sentry... really exciting times!
'I am amazed by new solutions like MCF; this new approach to modelling is really exciting, and I can see a lot of value for our clients. I am looking forward to future cloud development, for example running simulations or estimations using the cloud and better and new tools to automate processes.'
The diversity of work undertaken at Maptek makes working fun and challenges Edia to improve her knowledge and skills, and she relishes the travel and chance to meet people from different backgrounds.