Kono Rodriguez started his Maptek journey in 2000, at the same time as we pioneered 3D laser scanning for mining.
'My first project was to help survey the huge Chuquicamata mine where the pit measured 4 km x 3 km and 800 metres deep. I believe it was the first open pit of that size to be scanned bench-by-bench using a terrestrial laser scanner,' Kono says.
'Scan registration and data processing were done manually then, so the real world experience was crucial for helping to define the tools that surveyors would need.'
Kono truly feels he has grown with the point cloud modelling technology and is proud of Maptek's universal enthusiasm for solutions and willingness to help others.
'Sharing expertise and knowledge is a trademark of our corporate culture,' adds Kono, who worked in Chile and Australia before joining the team in Canada in 2014.

In 2013 he was part of an exciting international project to survey the Sydney Opera House. Maptek ultra-long-range scanners captured the building from all angles, including critical surroundings such as the plinth that the Opera House sits on and the main structure itself.
Kono also recalls a laser scanner demonstration at a small, family-owned mine site in South America that ended surprisingly well!
'After spending the day capturing their underground and surface data we returned to the office to process and present the data to management. The main driver was to capture and store all drifts in 3D, basically transitioning their operation from paper to digital format.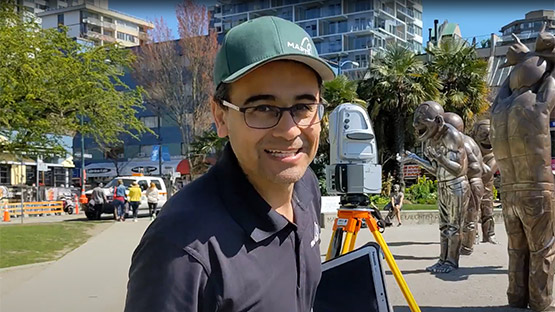 'The prospective customer loved the workflow, speed and ease of use of our laser scanner and after some back and forth agreed to purchase the system. The manager invited me to proceed to the office next door to do the paperwork.
'The assistant wrote the details down before handing me a piece of paper agreeing to the purchase. I was half happy and half in disbelief that I was flying back to my Maptek office with the hand-written order there and then!'
Time flies when you're having fun and Kono remains excited by our products and their benefits to industry.
'I can't believe I've been here for 20 years, half of Maptek's 40!
'My background was not in mining so I have appreciated the generosity of all the smart people in the industry who have shared their challenges and been receptive to ways to improve.
'Our clients' business is mining and Maptek's core business is technology - it's the people from both worlds who connect to make innovation happen.
'Thank you to my Maptek colleagues and all the Maptek clients who have partnered with us in the pursuit of higher performance. Being part of that ecosystem has been very exciting!'