Maptek Adelaide
Staff are housed in two offices within short walking distance of each other in Glenside, about 10 minutes drive from the Adelaide central business district.
The proximity of hardware and software development in Adelaide fosters a collaborative environment for developing total solutions for Maptek customers.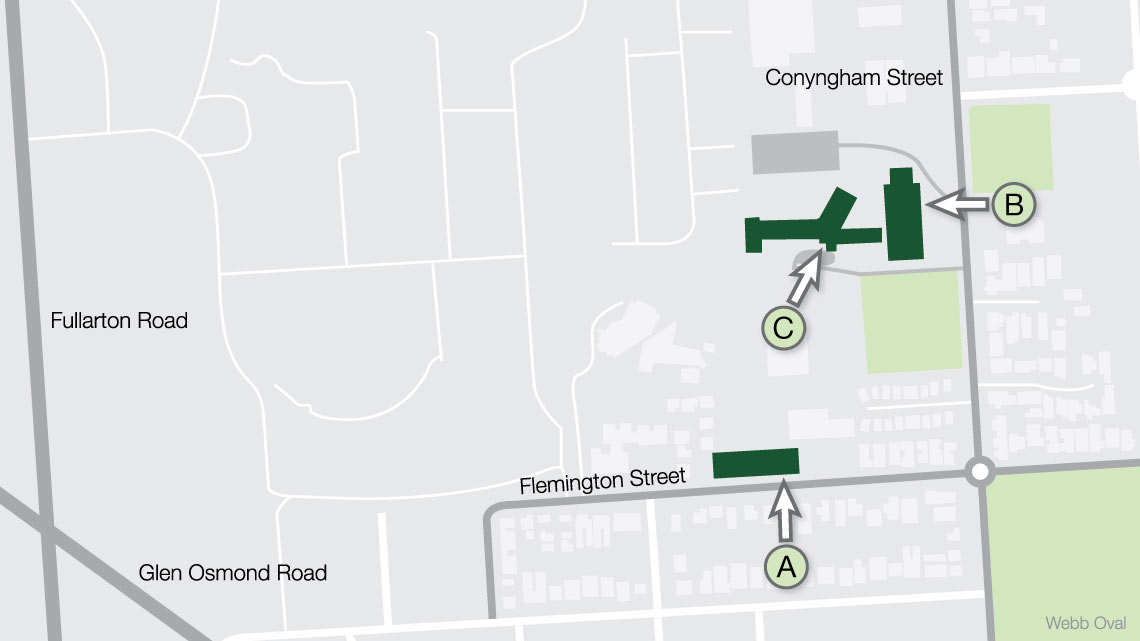 A - Maptek Adelaide administrative office is nearby at 31 Flemington Street, Glenside, housing BlastLogic software development and a core software technologies team. Corporate finance, accounts, system administration and marketing communications staff are also located in the Flemington Street office.
B - The main building at 63 Conyngham Street houses the hardware and software R&D teams for all Maptek mine measurement systems as well as sales and support for Laser Scanners, PointStudio, Sentry. Vulcan geological modelling and mine planning software sales and support staff operate out of this location as well.
C - Maptek laser scanners are manufactured in a purpose-built modern facility at the rear of 63 Conyngham Street, Glenside. The laser scanners are built, tested and serviced under an ISO9001 quality certified process. Sentry risk management systems, including the world-class trailer-based mobile monitoring configuration, are also researched, developed and produced here for distribution to mining customers worldwide.
If you are visiting Maptek in Adelaide it's a good idea to call ahead and check the location for your visit.
All inquiries for Maptek in Adelaide should be directed to +61 (8) 8338 9222