60 seconds with Maureen Moore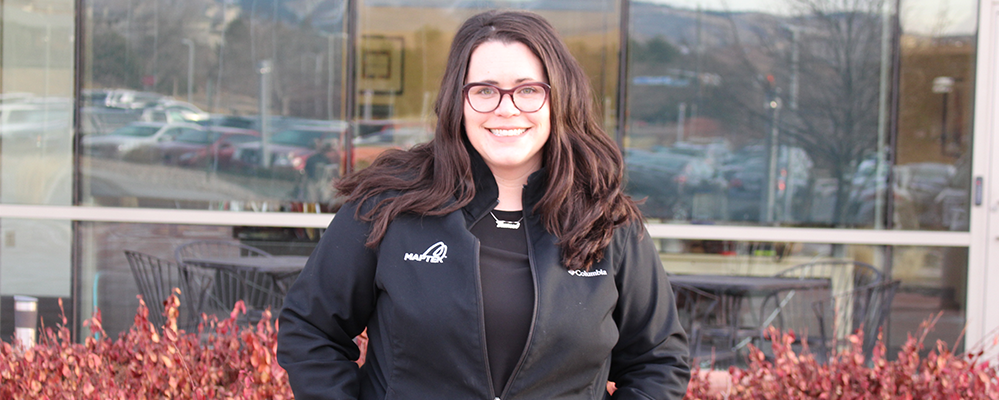 Here at Maptek, our people are our greatest asset. In an effort to share their expertise and passion, once a month we highlight one exceptional team member to give you a chance to get to know that person (and Maptek as a whole) a little bit better.
In this month's instalment of 60 seconds with, meet Maureen Moore out of our office in Denver, Colorado.
The quick hitters:
Position: Senior Geologist & Training Program Lead
Background/expertise: Economic Geology & Ore Deposits, Secondary Education
Years of geologic experience: 12 years
Joined Maptek: 2015
Behind the expertise:
Q: What got you into mining?
A: In college, I started my scientific career as a biologist with a focus on animal behavior and psychology. Although I enjoyed the higher level courses I was finding it hard to see how I would apply those skills as a practical career. A friend suggested I explore education since I was able to work with a variety of backgrounds and was passionate about teaching others. During my transition to science education I was required to take a Geology course. After that first class something clicked and I took the foundations of my early coursework and applied it to a double major in Geology and Earth & Space Science Education. While presenting at an international conference I met an industry professional that provided an opportunity to work as a field geologist for an engineering firm, where I got the chance to run drill and soil sample programs.
After several years learning how to delineate base metals from soils I became fascinated with how geologists found them in the first place. Soon after, I decided that I wanted to transition from an engineering firm to mining. With some hard-work, great mentors, and field experiences I overcame a steep learning curve, which allowed me to land an amazing internship and then later full-time job with Newmont's Geologic Technical Services team.
My love for the economic aspect of Economic Geology and the mining industry has kept me in industry. Each client interaction and new challenging project reminds me why I made the switch and ignites my excitement and directs my focus to develop innovative solutions to help the industry face the daily challenges.
Q: Why did you decide to join Maptek?
A: A fellow colleague had recently joined the Maptek team and was so excited that he found a role that allowed him to explore the various disciplines of the mining industry, travel to clients operations, and support and service a number of mining industry clients.
I was actually a bit hesitant to join a technology company and teach others how to use software programs because I was stronger at the field side of the job rather than the technology side. Luckily, Maptek has an amazing on-boarding process, and the highly technical team is made up of people who are passionate to teach others about Maptek's tools and are always there to support individual technical growth.
Q: What do you like most about your job?
A: I get the opportunity to work with some great clients that are always bringing new and challenging questions to the table. Which enables me to not only help them find innovative solutions, but continue flexing my learning skills.
Q: How does your experience in education help shape the direction of Maptek training?
A: I bring a pedagogical approach (like you typically find in a more traditional education setting) to teaching technology solutions. Just like ore deposits, no two people are alike, and so when conducting technology training we need to ensure that we provide a variety of instructional methods, data sets, and practical application of mining industry theory.
Q: What major projects have you been working on recently?
A: In late 2018, I transitioned into a new role at Maptek as Training Program Lead while still retaining my role as Senior Geologist. And as you can imagine, with this split role, I have been very busy! I also get the opportunity to lead the Maptek University program, which allows me to provide mentorship and coaching while training professors and students on Maptek Solutions.
A few of my current key projects are:
Production Geology Workflows: Leading North American geologic mapping in the production environment while engaging with the global teams to integrate the best practice solutions. To bolster the mapping improvement project, I also cross-train technical staff in field mapping methods using classic tools to help them appreciate and understand the field methods we are innovating as part of our new mapping project.
Advanced Grade Estimation Training: Working with our clients to ensure they understand our advanced grade estimation methods. This includes working with several of our major clients on internal training where we use Vulcan as a teaching tool. I also have a hand in directing enhancements of the software to ensure it meets the needs of those who use it in the field.
Development of our training program and services staff: So far, the team and I have developed 10 new workshops that build on our fundamental courses and focus on a more applied approach for the instructional method. Through these new workshops, we ensure our clients have fresh, practical, material to help increase workplace efficiency. As our technology solutions develop, so should our training material and technical staff.
Q: Do you have any key lessons you've learned in your career that you'd like to share?
A: I've learned quite a few lessons throughout my career, but three that stick out are:
Never stop learning or asking questions. You can always learn something new, and through talking out concepts or workflows, you normally are able to go down non-traditional paths that could provide you answers to questions you did not know you had.
Respect other's experience and learning styles. Not everyone works or learns the same. Embrace the difference and leverage those differences to explore new challenges and solutions.
The answers are always in the rocks. Do not allow math or technology to do the real geologic work that is necessary and critical for the evaluation and extraction of economic commodities. Use technology to speed up some aspects of the workflow, which allows for more time to review the rocks and interpretations.
Q: Any tips for our readers?
A: Things are not always as complicated as they first appear. Always ask questions and remember that mentors and wisdom come from all walks of life. Never be afraid to change, but ask questions to understand the big picture and help guide you during transformative times. And finally change, although scary, can be key for sustainability. Keep an open-mind!
Did you miss the last 60 seconds with post? You can check it out here: Meet Sarah Barker.
---