Best of both survey worlds
It's pretty easy to get carried away with the hype around drones. New technology has its place when it challenges us to think about current practices and ways they can be improved.
Drones, or UAVs, are good fun, can cover large topographic areas and provide some really cool images.
However, UAVs have limitations and those limitations are not always well understood. First, UAVs are not ideal for every survey job nor under all circumstances. There's a perception that they can replace laser scanners for mine survey. Sure there's an argument for replacing lidar, but only with significant investment in processing time and a very robust site control network.
Swapping to UAV still requires adherence to all the standard statutory regulations. The required survey accuracy may not be as easy to meet as expected.
The greatest potential value for UAV surveys is not so much in gathering survey data but from providing georeferenced 3D imagery that can improve inter-mine communication flows, particularly between mine planning and operational teams. Until sites become fully automated, better comms are worth millions to the bottom line.
We've gathered some feedback from customers using I-Site laser scanners with our continuous Drive system and compared it to the UAV approach:
Laser scanners collect scan data under most conditions including darkness.

Poor weather and lighting defeat UAV survey and incidences of bird attack have been reported.

From request to survey deliverable for 1 km of bench takes about 1 hour with I-Site.  Processing time alone for UAV data might be 3 hours or more.

With the soon to be released I-Site Studio 6 the process is almost fully automated. Value adding with PerfectDig sees design conformance results provided almost immediately in the field. UAV workflows typically capture airborne data in the morning with data available mid afternoon at the earliest.


UAV providers are yet to offer the same level of hardware and software support that surveyors need to maintain reliable and repeatable workflow. Using GPS & associated communication setup, I-Site hardware and software along with other Maptek software brings support from people who understand the needs and pressures in a mining environment. Nothing in the UAV space matches this and support

will

matter at some point when survey results depend on it.

Setup for airborne mapping is onerous. To conduct flights and successfully process, store and disseminate data requires sites to establish all of the UAV regulatory, insurance, record-keeping and systems, plus data processing, storage and retrieval systems, plus systems and software to manipulate and present the data effectively. Sites who have underestimated the task are struggling.
In summary, I-Site Drive is a more rugged, durable and reliable solution for accurate survey.
One of our customers is using it while they review requirements for a UAV system. We had Drive set up and running in less than 3 days, providing reliable survey results. Meanwhile, they're allowing at least 6 months to properly prepare for UAV acquisition as well as several months to bed down procedures.
I-Site Drive couples a custom vehicle mount with specific software to enable continuous acquisition of data from an I-Site laser scanner attached to a moving vehicle. The result is a safe system for quickly calculating stockpile volumes and capturing positional highwall data.
Collected data is seen on the tablet in real time, making it easy to spot shadows and drive around again to capture missed areas. Data processing is just as streamlined because the data already has coordinates assigned.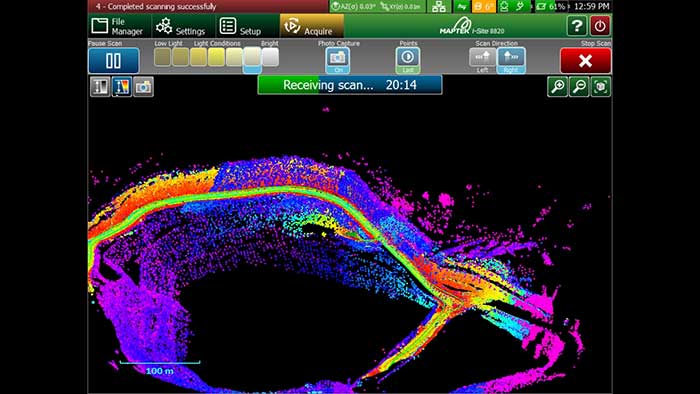 In terms of covering more survey applications laser scanners can also operate indoors – think of clinker sheds, underground, silos, ship holds.
If you're still keen on adding drones to your survey capability, our recommendation is to consider buying both I-Site Drive and a UAV.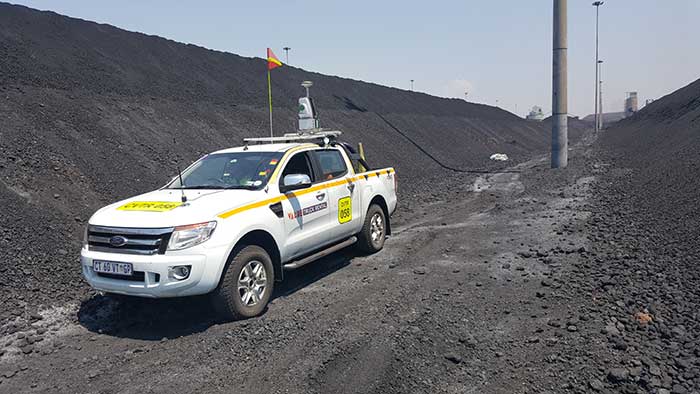 The ideal solution is to use UAV to cover large topographic areas from above (across roads, water, access restricted areas and hills) and laser scanning to map more complex objects (think geotechnical face mapping) or complex scenes (with powerlines, poles, building walls, tree coverage and signs).
Get I-Site Drive first and invest the time saved using this seamless continuous scanning method to carefully establish a UAV program. Get the best survey outcome.
---