Enhance your technical skills for free!
When you want to learn a new skill, where do you start your journey? Google? YouTube? Your local university or trade school? I would guess that most of us would start with Google, which would inevitably lead to an online video or written instruction. There is so much free information on the web today that it is easy to get overwhelmed with content that doesn't quite meet our needs.
With Maptek's free resources, you are assured that the information you receive is current and correct. No need to waste time with a fruitless web search.
I always talk about learning for free with Online Training, but you can learn a lot about using our software without committing to a full online course. Our online videos and help resources are great ways to get up-and-running quickly.
Online Training
If you want a guided online learning experience with data and practical examples, Online Training is your solution. Check out our free Essentials courses in Vulcan, Block Models, BlastLogic, and the latest, PointStudio to start learning how to work smarter with Maptek.
Website videos
Do you want to curate your own online learning experience? Our website features short how-to videos that explain popular tools and help you learn about new features that can help you save time. You can search our website by topic or software package.
Bookmark the website for videos of interest and watch one or two videos when you have a short break in your day. Remember that new how-to videos and screencasts are uploaded regularly, so be sure to check back often to add to your learning list.
Maybe you want to automate your processes, but do not know a scripting language? No problem! Search the Maptek website for workflows to view our latest video series. Maptek Workflows can streamline your tasks by linking your data to tools in one or more Maptek software solutions.
Online help
If you want instant answers, online help is designed to help you find the exact information you need fast. Whether you want to skim a quick start guide, read high-level steps, watch illustrative animations, or dive deep into the tools, online help has you covered.
Not sure where to start exploring? Consider glancing through the help for Vulcan GeologyCore, which can help you quickly create and update geological models.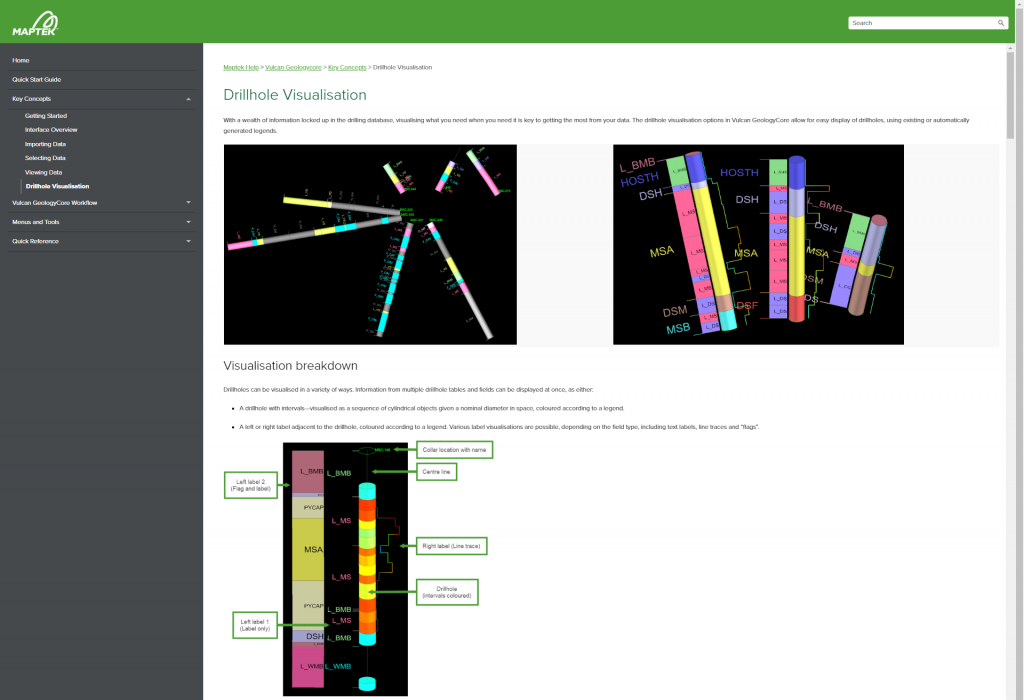 Software help
Don't overlook the help files bundled with your software. If you are anything like me, reading the instruction manual is the last thing on your list. However, spending some time to understand the workings under the hood can save a bunch of time in the long run.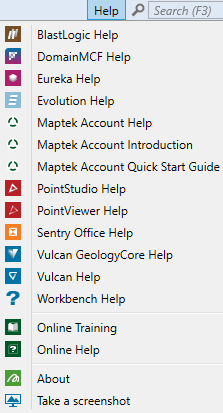 Are you ready to take your automations to the next level with some custom scripts? The Vulcan help files contain many complete Python or Lava examples that you can copy-and-paste directly into your script.
Not ready to dive into a full scripting language yet? Check out detailed examples of Block Calculation Files and Grid Calc Macros.
Want to enhance your design data with powerful information? Attributes on data are important for passing critical information downstream. Apply Templated Attributes to populate primitives with volumes, tonnages, and rough reserve estimates. You can even use Templated Attributes to organise your design strings with consistent and informative naming conventions for scheduling. A complete guide to all Templated Attribute functions is in your Vulcan help files.
If you have delved into the resources available and still have questions, you can contact your local Maptek office anytime. We are here to help you succeed!
---