Future proofing drill & blast performance
When gunpowder and then explosives started being used more widely, rock chunks dislodged during mining became much larger. Mining, once dependent on how well an individual could swing a pick to break up the rock (for carrying in a sack) now required an organised process to proceed effectively. The advent of the industrial age and economies of scale saw machinery take over the breaking-up process.
Fast forward to today, and miners are still looking for better connected, more efficient and integrated systems to finetune their processes. They also need practical ways to improve productivity and performance.
With the advances in technology a lot more data has become available at every stage of mining. BlastLogic takes the worry out of managing the drill & blast data so you can focus on analysing performance and targeting improvements.
Did you know that better fragmentation has been linked to a shovel improvement of more than 9%?
That's worth its weight in … whatever you are mining!
Achieving optimal and consistent fragmentation improves digability through easier handling and processing of excavated material. By looking at the big picture of the entire comminution process, BlastLogic provides the means to measure and track drill and blast performance relative to crusher and milling throughput.
Simply put, the BlastLogic blast accuracy and management system provides a reliable platform for achieving optimal fragmentation for EVERY blast. This is made possible through instant data connection and visualisation, so that engineers can easily correlate design, execution and results.
Fragmentation modelling in BlastLogic outputs a distribution curve and coloured grid for simple identification of variation across blast. Designs are quickly validated and refined. Comparison to as-charged supports engineers to promote improvements in blast design and processes using BlastLogic to better target those improvements by tracking performance.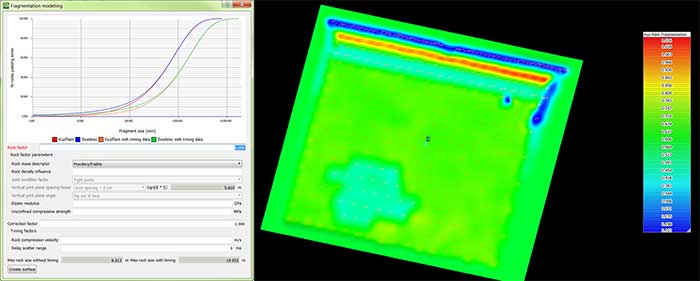 Vibration and airblast modelling is another new feature. Combining this with simple 3D and tabular analytical tools to compare multiple blasts, BlastLogic delivers a valuable insight of how drill and blast impacts productivity and cost drivers of the mine.
This is just one example of how BlastLogic helps improve productivity. Getting the fundamentals of any process right each and every time is a key which unlocks endless opportunities to improve profitability.
---