Maptek recognized as a Top Workplace in 2023 by The Denver Post
Maptek is pleased to be named a 2023 Top Workplace by The Denver Post. This award is based on 100% employee feedback from survey responses distributed and collected by Energage and the regional Colorado Top Workplaces program.
Energage is an employee research company that has spent the last 16 years surveying over 70,000 organizations and 27 million employees to identify top workplaces and the culture drivers that make them so successful. The Energage survey is entirely anonymous and empowers employees to share their real experiences about the company culture.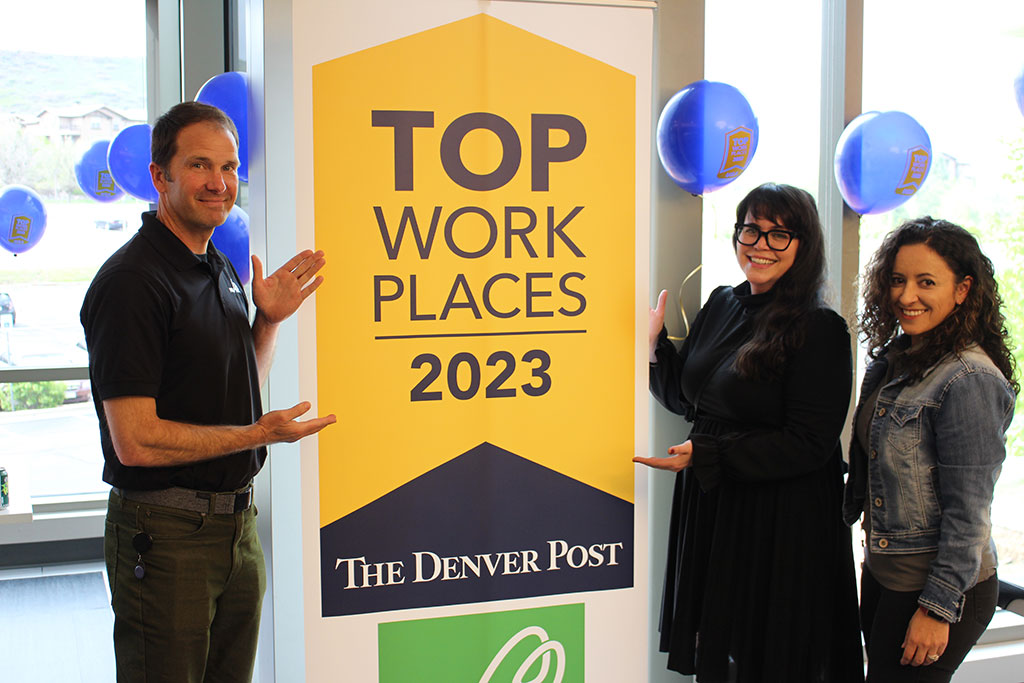 Maptek among the best companies to work for in Colorado
Out of the 6,400 companies nominated for the Top Workplaces award in Colorado, Maptek was recognized in the top 150 for the small business category by its employees. "We've put a lot of focus and effort into making a great work environment for people. This award confirms that our company is among the best places to work in Colorado and is a source of pride for all employees", said Jon Dale, Senior Director of People at Maptek North America.
A progressive company culture
During the COVID-19 pandemic, Maptek adjusted to a remote working environment for all its employees with safety as the top priority. "At the beginning of the pandemic, Maptek responded rapidly to ensure employees had a safe working environment and they have continued to adapt instead of trying to return to the pre-pandemic structure," explains Amanda Wahrer, Mining Engineer at Maptek.
After the pandemic emergency ended, Maptek adopted a hybrid working environment for most employees maintaining flexibility at its core. "Maptek had a reputation of supporting employees at and away from work prior to the pandemic accelerating awareness of that benefit on a larger scale," Wahrer continues, "That reputation has held true in my experience as an employee of 4 years and I am happy to see Maptek continue to evolve what it means for an employer to offer flexibility whether that be working location, hours, or another need while still offering consistent support to its clients."
Generous company benefits
Health benefits and a focus on wellness are also integral to what makes Maptek a Top Workplace. With health insurance premiums paid by the company and a 401(k) 100% match on up to 10% of annual earnings, Maptek North America aims to take care of its employees. A recent addition has been Wellness Day, a bonus holiday for Maptek employees to focus on their well-being.

Delphine Quach, Mining Engineer at Maptek, shares the benefits and improvements she's seen during her 5-year tenure at Maptek. "Maptek has always had their employee's well-being in mind," says Quach. "Maptek's adaptability and willingness to make it work evolved with the industry and employees. One meaningful example is the flexibility to work from home, making it easier for me to transition from my maternity leave to my role within Maptek while still being able to spend meaningful time with my child. I have also seen new measures dedicated to the wellbeing of their employees such as a Wellness Day that has now become an annual recurrence."
Opportunities for career growth
Since 2022, Maptek has experienced growth with new hires across multiple departments including technical services, software engineering, marketing, and sales. Promotions are a common occurrence as the company continues to expand and grow to meet the needs of its customers.
Maptek has also seen success with its internship program with most interns returning to work for the company full-time once their education is complete. Ben Tanner, Project Geologist at Maptek, shares about the program's benefits. "The internship program at Maptek offers real-world projects that allow interns to make substantive contributions to the company, rather than just being stuck with menial tasks," says Tanner, "[In addition,] the long-term presence of experienced employees at Maptek enables them to serve as valuable mentors and resources for their colleagues, creating a supportive and collaborative work environment for everyone."
Maptek prides itself on being an exceptional workplace and is committed to creating a company culture in which its employees feel valued and cared for. This recognition from the 2023 Top Workplaces program has confirmed that Maptek employees are some of the happiest in Colorado.
---