Women of SME breakfast recap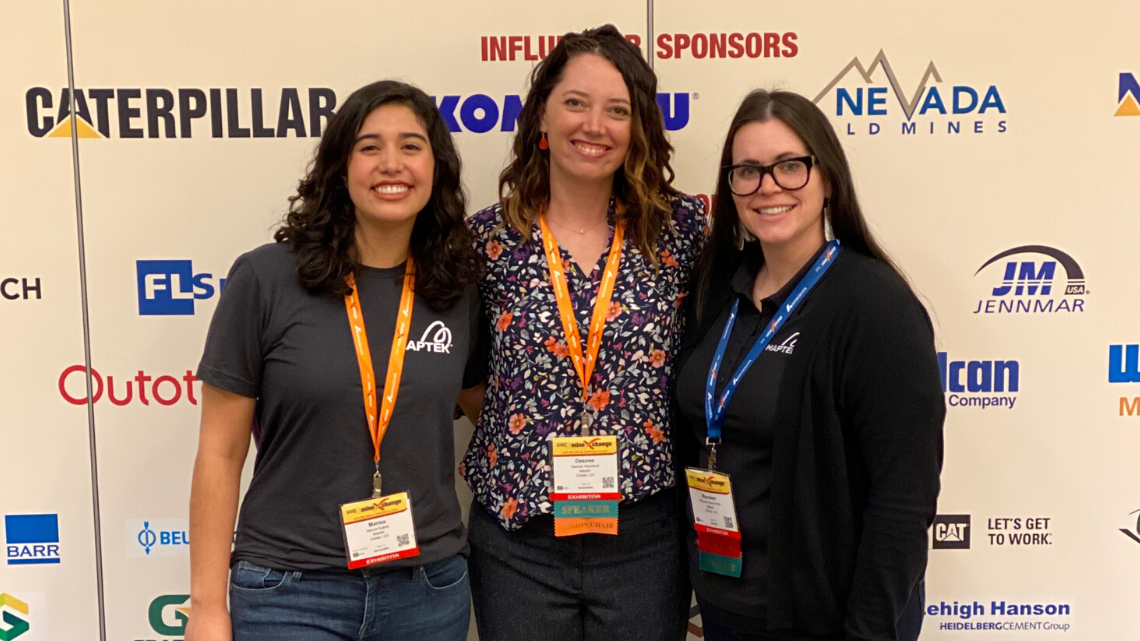 On the morning of February 25th at 7 am sharp, hundreds of women arrived at the Sheraton in downtown Phoenix to take part in this year's Women of SME breakfast. My colleague, Maureen Moore, and I arrived at the event and were excited to see a packed ballroom full of women in our industry and a significant amount of men also in attendance.
We took our seats and got our first introduction to the Women of SME and their breakfast tradition. What started in the 90s as a small group of women sitting around a table enjoying their morning breakfast, had now transformed into a sold-out event with panel discussions, distinguished speakers, and professional networking. After hearing this history, the energy in the room was high and we were ready to hear from the first speaker, Emily Invergo, a Mining Engineer with Rio Tinto Kennecott.
An inspirational story
Invergo took the stage and jumped right into her story. Calm and collected, she began to share her experience as a woman in the mining industry. From a young age, Invergo set goals for herself and her career. She had a love for collecting rocks and decided to study mining engineering in college, working hard to reach her goal of working at an open-pit mining operation like the ones in her textbooks.
When an opportunity presented itself for her to become an intern with Rio Tinto in their mine monitoring and control department at Kennecott, Invergo took the chance and applied. She wasn't expecting to hear back with acceptance but was pleasantly surprised when she got the job. What Invergo never imagined was her 4-month internship transforming into another the following summer and from there an offer for a full-time position. Invergo credits her hard work and success to her biggest inspiration—her mom. Invergo's mom, a neurosurgeon and no stranger to hard work herself, always encouraged her daughter to be diligent in the pursuit of her dreams. By following this advice and through her excellent performance at work, Invergo has been able to take control of her career and overcome hurdles that have come her way. Invergo left the stage to loud applause, leaving keynote speaker Shari Harley to take her place at the podium.
Career advice from the keynote speaker
Harley, author of "How to Say Anything to Anyone", is a well-known business communication speaker. She was there to help us take charge of our careers, manage our reputations, have more productive meetings, and build stronger professional relationships. A tall order for a breakfast event, but Harley did not disappoint. The main points of her talk revolved around feedback conversations and how to manage people's reactions when having difficult discussions at work. Harley shared with us her winning feedback formula and that feedback, whether good or bad, should always be specific, well-rehearsed, and completely devoid of cap'n crunch. Not unlike the cereal, Harley defined cap'n crunch communication as words that might seem like meaningful feedback on the surface but actually lack real substance. Examples of cap'n crunch feedback include words like thorough, detailed oriented, and difficult to work with. What do they all have in common? They're vague and only serve to make the recipient of your feedback confused or defensive.
With some volunteer help from the audience, Harley walked us through an example of a difficult feedback conversation. Practicing along with Harley and hearing how she would personally handle a real-life negative feedback discussion was incredibly valuable and taught everyone in the audience important communication skills to take home. This was especially helpful since Harley gave us all a homework assignment. When we returned home from SME 2020, we were tasked to gather our courage and have that one difficult conversation we had all been dreading using the techniques we learned that Tuesday morning. And while I'm fortunate enough to have no need for those techniques at the moment, I do feel empowered and prepared to do so. As for the other women and men in the audience, how's your homework going?
---