Maptek and BBE collaborate around advanced mine ventilation solutions
Tuesday, July 26th, 2016
---
Maptek and VUMA, a subsidiary of Bluhm Burton Engineering Pty Ltd (BBE), have executed a memorandum of understanding to facilitate collaboration and cooperation around mine ventilation solutions and mine design.
The primary focus will be on enabling detailed data transfer between Maptek Vulcan mine planning software and VUMA ventilation simulation software.
VUMA software is developed for analysis of underground mine ventilation, contaminant tracking, refrigeration and cooling networks. The heat engineering balance can be examined in detail, taking into account all factors contributing to heat load, including equipment, advance rates, heat from broken rock and mine design.
Vulcan software provides advanced underground mine design, planning and scheduling tools. Enabling detailed design, survey and operational data to be transferred to VUMA software will deliver valuable gains in accuracy, efficiency and speed for analysis and planning around ventilation and refrigeration in underground mines. This also allows ventilation factors to be considered earlier in the mine planning process.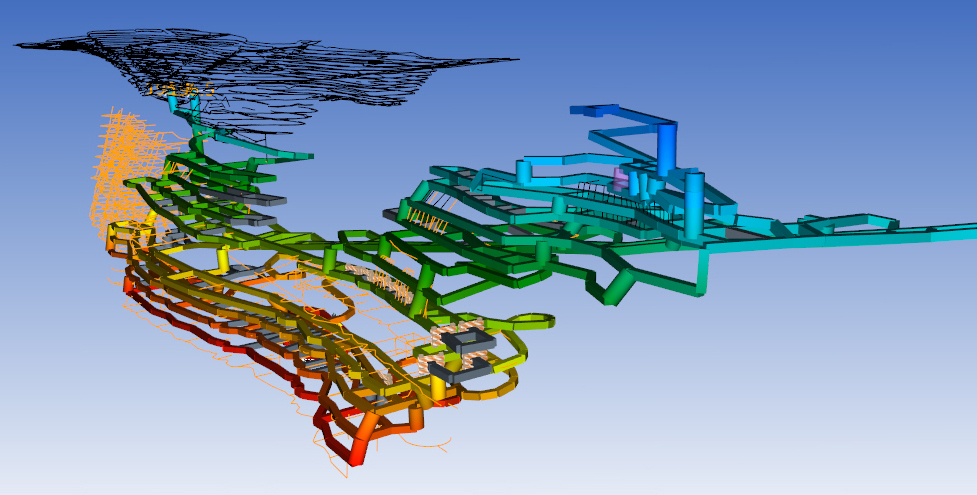 'VUMA is an impressive software suite. Integrating VUMA with Vulcan offers huge benefits to mine planning departments,' commented Maptek Africa General Manager, Nick Venter.
'It will allow mine survey and design data to be used in ventilation and cooling analysis, without replication of data, and ensures accurate, current representations of the mine surface can be applied to ventilation planning.'
'Maptek is committed to delivering the best technical capabilities to our customers. Collaboration with leading practitioners in specialised fields helps improve operational value and productivity,' Venter concluded.
'This unique interface enhances the holistic approach required for modern mine planning and design, particularly the intensifying demand for fast, accurate and reliable answers,' commented VUMA software specialist, Frank von Glehn.
About VUMA
VUMA has developed a ground breaking suite of products for the simulation of steady-state environmental conditions encountered in underground mines. VUMA is designed to simulate airflow, heat loads, gases, dust, blast clearance and fires. VUMA is used in the planning, design, troubleshooting and energy optimisation of mine ventilation networks. VUMA systems are based on current research and development, and use state-of-art procedures and technology. These can be customised to suit any combination of mining method and orebody. VUMA's product range includes VUMA3D-network, VUMA3D-coal, VUMA3D-live and VUMA3D-coolflow.