Maptek engineer shares Best Paper Award at GECCO
Friday, July 29th, 2016
---
A paper co-authored by Maptek engineer Christie Myburgh was a Best Paper Award winner at the Genetic and Evolutionary Computation Conference in Denver last week.
Breaking the Billion Variable Barrier in Real-World Optimization Using a Customized Evolutionary Algorithm written by Myburgh and Professor Kalyanmoy Deb, of Michigan State University, was recognised in the Genetic Algorithm category. 
Maptek Principal Research & Development Engineer Myburgh said attending GECCO, particularly the paper presentation session, was a thrill.
'The conference was a great experience. Our session was jam packed and people were standing out in the hallway to hear our paper,' Myburgh said.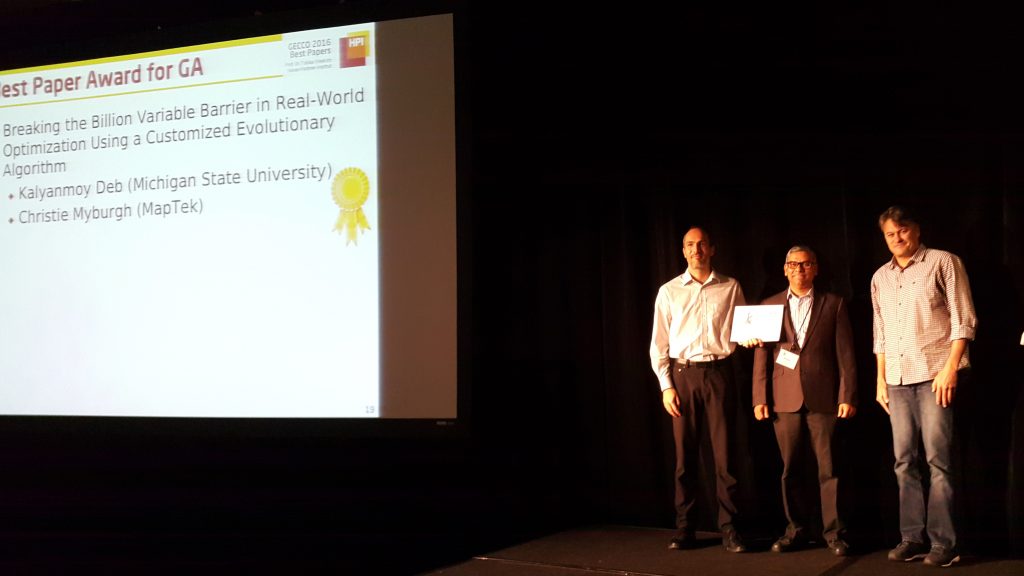 The paper outlines a computationally fast method to solve an integer linear programming problem similar to many real-world resource allocation and assignment problems.
The problem was to find optimal pouring sequences at a metal foundry to reduce metal heating costs and wastage as it produced castings of various volumes.
Maptek Product Development Director Simon Ratcliffe said a similar class of optimisation algorithms were critical to Evolution mine scheduling software and the ability to scale up to large datasets was crucial.
'This is the beauty of computer science,' Simon said. 'Examples are not to be taken at face value.
'Algorithms for solving problems are abstract and so they often provide solutions to a huge variety of seemingly different problems in the real world.
'One of the keys of engineering analysis in computing is spotting or knowing when a certain class of algorithm may be applicable in a new application domain.
'Customising and incorporating domain-specific knowledge into the design of an optimisation algorithm is crucial when it is applied to large-scale, complicated and heavily-constrained real world problems.'