Maptek I-Site 3D technology used to model Mount Panorama race circuit
Wednesday, October 30th, 2013
---
Late last year Maptek was asked to model Mount Panorama in New South Wales for a video game.
It is the first time the game developer has used laser scan data to model a racetrack. The hotly anticipated racing game is due out in November.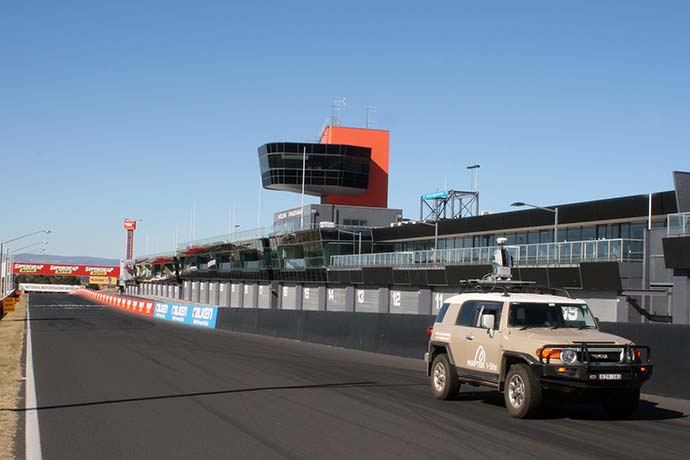 The Maptek I-Site 8800 laser scanner was ideal for the survey. The system enabled precise reproduction of the characteristics of the famous motor sport circuit. Every corner, straight and elevation change has been mapped to sub-centimetre accuracy.
The iconic Aussie track, home to the annual Bathurst 1000 V8 Supercar race, has not previously been included in this game. In the past, mapping the circuit to the required level of accuracy was too great a technical challenge.
The I-Site 8800 was mounted to a vehicle with a GPS unit to conduct the surveys. Stop-go scanning allowed the operator to remain in the vehicle, with scans taken every 100 metres to account for the steep gradient. The integrated camera in the I-Site 8800 captured simultaneous photographs, allowing scans to be overlaid by photo pixels for enhanced reality.
Game developers required a four-sided polygon to model the track data. Point cloud data was exported from I-Site Studio software for processing.
Being able to obtain a high intensity laser return from the black asphalt proved to be the biggest benefit of using the I-Site system. Gamers will experience every bump on the track as if they were driving it themselves.
'Drivers' will experience the 1:6 grade exit of The Cutting and the distinct crests of Conrod Straight in the most accurate ever video game version of the Bathurst track.
Without laser scanning, game developers relied on a series of photographs to map a racetrack. Using the I-Site 8800 laser scanner to survey Mount Panorama has brought the circuit to life in a way never experienced before.