Maptek Prize winner inspired to drive positive change
Monday, June 7th, 2021
---
Winning the Maptek Prize for Computer Science will enhance Le Shin Lim's self belief as she embarks on a career aiming to make the world a better place through digital transformation.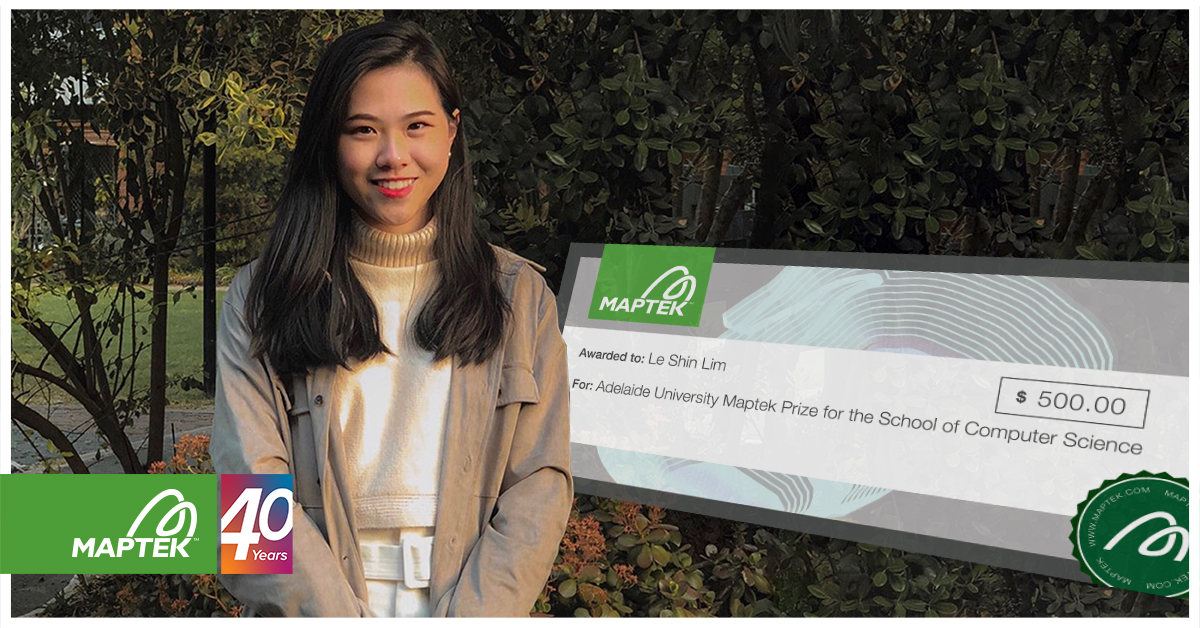 The Bachelor of Mathematical and Computer Sciences student was last week awarded the prize which goes to the highest achieving second-year student from the University of Adelaide School of Computer Science in the previous year.
'I am really honoured to receive the Maptek Prize as I really look up to the team in Maptek for creating cutting-edge solutions through digital innovations,' Le Shin says.
'The fact that Maptek is making an effort to offer young people like me encouragement and support through an award like this is something I find really inspiring.
'I am very surprised and thankful for receiving this award. It is a recognition for my hard work and it will definitely boost my confidence greatly as I progress into this next stage of my life upon graduation.'
Drawn to studying Computer Science because of its impact in driving change, Le Shin says the more she ventures into the field, the more she is intrigued by the world of problem-solving as deeper insights are unveiled. 
'I aspire to be part of an organisation that allows me to spark positive change through digital acceleration as a woman in STEM,' she says.
'I believe I do have plenty of room for improvement and a lot of things to learn. But having this achievement has strengthened my belief that working hard and staying curious is the key to success.'
Le Shin is actively involved in volunteering with student bodies, such as as an International Peer Study Support Mentor, and co-founded a stationery and lifestyle brand called Plannerd Trading.
'I aspire to be a multidimensional person and I believe these commitments demand excellent organisational skills and the drive to juggle between competing priorities.'
Currently studying offshore from Malaysia, Le Shin could not accept the prize in person and looks forward to returning to Australia when travel restrictions are lifted.
Maptek Head of Experimentation and Technology Simon Ratcliffe was thrilled to announce Le Shin's win at the School of Computer Science Awards Night on May 28.
'Congratulations to Le Shin for her top academic achievements last year,' he said.
'Maptek continues to proudly support students in computer science and software engineering, many of whom go on to greatly benefit society through technology careers related to mining and the environment.'
Find out more about Maptek university partnerships here: www.maptek.com/university/