Maptek unlocks operational value through drill and blast
Thursday, July 9th, 2020
---
The release of BlastLogic 2020 cements the Maptek capability as the leading force in drill and blast software.
Group Product Manager, Mine Operations Mark Roberts is proud the solution is delivering the best possible blast design and reconciliation results for mines globally.
'We are continuing to support our customers to achieve value for their mine operations through drill and blast, which we know is a primary driver of value – equating to 20 percent of the mining cost per tonne,' Roberts says.
The latest 2020 release introduces support for downhole drilling information, specifically measurement while drilling data.
'Focusing on the data flow, and adding value through validating the as-drilled holes to design was our aim. All of the downhole measurement whilst drilling information that has come into BlastLogic is passed to Maptek Eureka geological modelling system to assign lithology boundaries and returned to BlastLogic to update charge plans,' Roberts says.
'We're creating the blast design matched to geology information, but as the geology is validated with new information, our charge plans can be easily updated.'
The automated interface delivers a more seamless and efficient workflow from BlastLogic to the geologists that interpret and model geological information and back to BlastLogic where engineers can update charge plans.
To meet industry demand for dynamic data-driven decision making, secure inventory management is now available on the BlastLogic Tablet.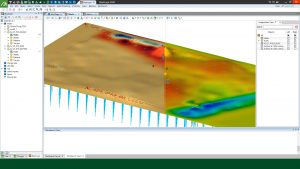 Users can register goods transfer to and from blasts, view stock levels, examine inventory history for auditing and cost control, and track stock at individual magazine level in the field on the hand-held device.
The latest release also features enhancements to importing initiation timing data, dynamic recalculation of charge rules for better mine safety and productivity, and new graphics such as juxtaposition view to compare spatially co-located data.
BlastLogic development is driven by goals to deliver industry leading design and modelling tools, off-the-shelf integration with third-party systems and reconciliation by measuring design compliance and linking upstream and downstream processes to blast performance. Digital drill and blast data supported with near-live synchronisation in the field forms a single source of truth where data is stored centrally and accessed by all stakeholders, enabling continuous operational improvement. 
'We're still not done,' Roberts says.
'That's the beauty with technology – it's fast changing and we're working hard to keep up with it.
'In our quest for innovative and industry focused solutions, we're working on an ambitious project to automate the blast design process. This is really going to challenge the current engineering-intensive effort that goes into creating each design.'
Tools to automate drill pattern design, charge plan and electronic timing using population-based, multi-objective optimisation techniques and artificial intelligence will be previewed to interested parties as part of BlastLogic 2020, with a view to releasing them in BlastLogic 2021.