Maptek employee featured in Women in Mining book
Tuesday, June 13th, 2017
---
Maptek is honoured to be included in a recent publication which celebrates stories of women in mining.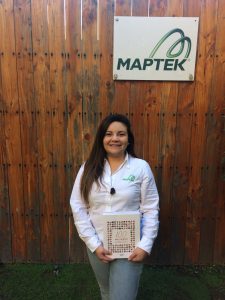 The Women in Mining (WIM) organisation launched the book 100 Women and Their Stories in Mining during Exponor 2017 in Chile in May.
Mining Engineer Catalina Cerro from Maptek South America is among the dedicated women whose stories are shared. The book celebrates their achievements within different mining companies, in an industry dominated by men.
'I'm proud to belong to a profession that I've dreamed of since I was a child,' said Catalina Cerro, Support Engineer, Maptek South America.
'It was wonderful to have the opportunity to tell my life story. I would like to thank WIM and Maptek for the chance to prove our worth.' 
Maptek congratulates Catalina and values her contribution to the South American mining industry.
Women in Mining is a global organisation uniting women across mining. It supports professional development and promotes female participation in leadership positions.