Planning engineers benefit from new Epoch mine scheduling
Wednesday, October 23rd, 2019
---
Maptek has built on its position as a leading developer of integrated technical solutions with the launch of Evolution Epoch short term planning tool.
Epoch adds to the proven Evolution capability for mid and long term schedules, working at the finest detail of the short term planning horizon. Open cut mines can now schedule holistically with a single system that is designed to maximise project value across the life of the operation.
The Epoch short term planning environment allows engineers to manage multiple mining activities, tasks and equipment, and apply different types of dependencies to define mining sequences.
In an impressive 40-year history Maptek has broken new ground in areas from borehole logging and 3D geological modelling to mining-dedicated terrestrial laser scanning systems. Now it is reinventing mine scheduling by connecting short term planning to the resource model, as well as upstream mine design and downstream mine performance.
'We developed Evolution Epoch with a clear vision,' stated Mine Planning Product Manager Eduardo Coloma, '… to ensure that short term planners can build schedules that are practical, conform to mining constraints and remain aligned with long term scheduling goals.'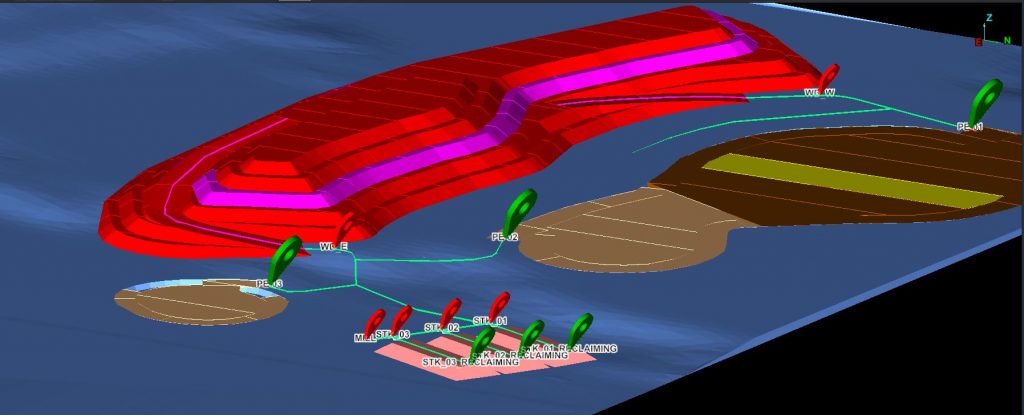 Engineers use Epoch to produce viable schedules by simultaneously considering excavation, haulage and dump activities. Epoch delivers flexible and automated sequencing, schedule visualisation and dynamic reporting. Integration with the long term schedule and Vulcan mine plans ensures that plans do not focus on short term gains which result in long term losses.
Mines need technical systems that are robust. The Evolution scheduling solution is dynamic and agile, minimising disruption to operations in the face of commodity, grade and resource fluctuations.
'Changing conditions require schedules to be rerun over and over, complicating the engineering task,' said Coloma.
Having live links to datasets and being able to rapidly test scenarios makes stakeholders more confident in authorising adoption and deployment of practical short term schedules.
'The advantage of an integrated system is that everyone is able to work from the same data. As mid term plans are updated, short term planners can tailor their schedules to target these new plans,' said Coloma.
'Data connectivity across the entire mine planning process minimises risks associated with data manipulation. Engineers can revise the haulage network in their designs and see the changes automatically reflected in the Evolution viewer.'
The live scheduling dashboard connects all departments across the mine. Engineers can analyse multiple sequences to guide activity execution and step forward in time across mine planning horizons to evaluate the impact of the current sequence. 
'Many of the decisions in the short term space are urgent and unplanned, so connecting scheduling with mine planning and the orebody model helps build a decision support system where knowledge replaces assumptions,' added Coloma. 
Mine planning that continually references the geological model ensures engineers are able to generate schedules that maximise economic value of their operation over the long term. 
Epoch was released alongside Evolution Strategy and Origin version 6. Strategy delivers new multi-element cutoff grade and capex optimisation functionality for maximising recovery and revenue, adding to its suite of strategic optimisation tools. Origin generates detailed scheduling scenarios from life-of-mine to short term planning horizons.
With the release of Evolution 6 and Epoch Maptek provides mine planners with the most comprehensive, advanced set of mine scheduling and optimisation tools. No more compromising data to handle the complexity. No more simplifying the problem just to get an answer in a reasonable timeframe.
Because Maptek has a solid history of providing what the industry needs, miners can be confident that the Evolution solution can meet their real world scheduling challenges. 
A new epoch in scheduling has arrived!