60 seconds with Amanda Davis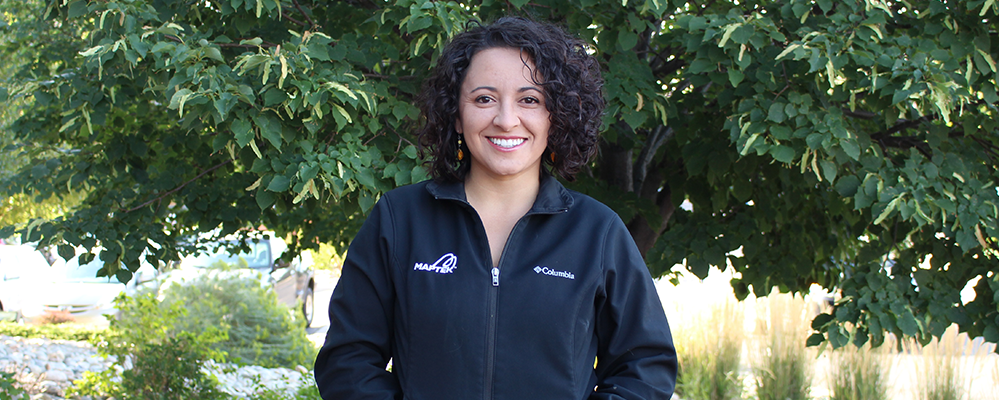 There are some seriously great people who work at Maptek. In our 60 seconds with series, those people have the opportunity to share some highlights from their own unique story and how Maptek has played a role in it.
This month, get to know Amanda Davis, Technical Services Manager and Mining Engineer in our Denver office. 
The quick hitters:
Position: Technical Services Manager – Mining Engineer
Background/expertise: I've been with Maptek for 9.5 years. I started out as an intern while I was in University and am now one of the senior folks in Technical Services
Years of mining experience: 11+ years
Joined Maptek: 2010
Behind the expertise:
Q: What got you into mining? 
A: I was accepted to Colorado School of Mines, and although I wanted to be a Physics Major, my father, a hoist operator, wanted me to explore Mining Engineering. I spent my first summer at an Underground Block Cave operation and I was hooked. I worked there every chance I got, including summers and holiday breaks. I was not only comfortable being underground, I was mesmerized!
Q: Why did you decide to join Maptek? 
A: Following my semester internship with Maptek, I was offered a full-time position. My intention was to become a Vulcan extraordinaire and then move on to some world-class mine operation. After 9+ years, I'm still at Maptek, love my job, and don't want to leave.
Q: What do you like most about your job?
A: I truly enjoy working with people. My coworkers are awesome, but it's our clients that have made this job so fulfilling for me. Building professional relationships with some of the industry's most interesting and talented individuals has been very rewarding.
Q: What major projects have you been working on recently?
A: I've been working on custom advanced topic trainings for some of our clients. We train with our client's data so that we can provide them with client-specific workflows and solutions. The feedback on this type of training has been excellent—clients love it!
Q: What do you do outside of Maptek?
A: I'm a homeowner, so I do what most homeowners do—house projects! The list is ever-growing, especially with websites like Pinterest feeding the home improvement addiction. I also love outdoor adventures with my husband and fur babies as well as hosting parties for friends and family.
Q: Do you have any key lessons you've learned in your career that you'd like to share?
A: Be open-minded. Creativity and the cultivation of new ideas stem from being open-minded, both of which can prove invaluable when faced with professional and personal challenges.
Q: What do you think is the next big thing in mining technology?
A: My hope is that space exploration, and the subsequent resource exploitation, is the next big thing. Our available resources here on Earth are limited and are becoming increasingly difficult to access. I'm excited to see where the advancements in space resources technology take us.
Q: What's your favourite Maptek solution? 
A: Vulcan Grade Control! This one module pulls functionality from across 5 different Vulcan modules and makes the grade control process completely customizable to the differing needs of our clients. The Grade Control module delivers outputs that cater to distinct commodities and the different demands of mine personnel.
Q: Any tips for our readers?
A: If you have a unique mining or geology problem, call us! Innovation starts with the people whose boots are on the ground. Whenever you think, "if only there was a product or service that could solve this", we're here to help. Let's find a solution together.
---