60 seconds with Chris Johnson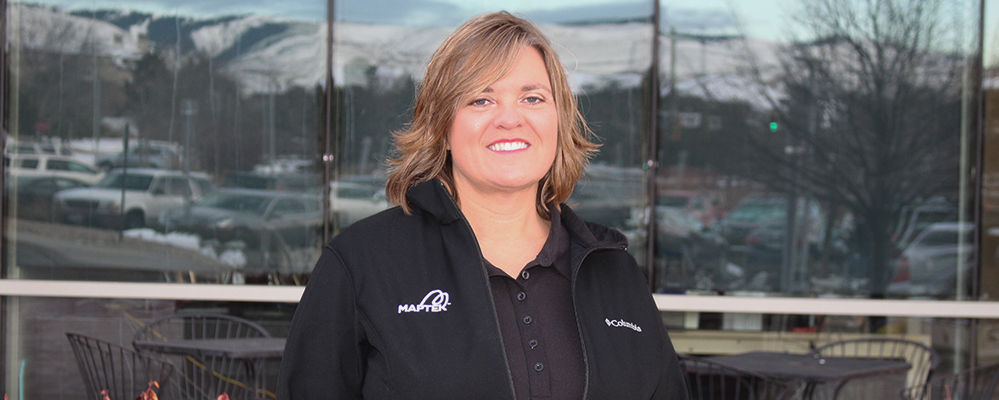 We work with some awesome people here at Maptek. Each person brings a unique insight, dynamic background, and loads of expertise to their role and team. What better way to highlight these individuals than to have them answer a few quick questions so that you can get to know them?
Welcome to the 60 seconds with blog series.
In this month's instalment of 60 seconds with, we'll get to know Chris Johnson out of our Denver office.
The quick hitters:
Position: Lead Engineer: Learning and Development, Technical Services
Background/expertise: I am a Colorado School of Mines graduate with a degree in Geological Engineering. My studies focused on hydrology and geotechnical analysis. In my former life, I taught school children from ages 3 – 19. Since I started at Maptek, I have taught many people how to use Vulcan and have worked in gold, nickel, uranium, and limestone deposits.
Joined Maptek: 2007
Where am I from? I am a rare species: Colorado Native. Most people in Colorado moved here from somewhere else.
Behind the expertise
What does a Lead Engineer in Maptek's Learning and Development team do?
My primary focus is to develop new courses for our Online Training program. I also create training documentation for our instructor-led Vulcan courses and provide opportunities for our internal staff to expand their knowledge. Vulcan is a huge program with many capabilities; there is always something new to learn!
What's an interesting project you have been involved in recently?
Driving Online Training has been a challenging and rewarding project. Our society continues to gravitate more towards conducting business online. You can buy groceries, keep in touch with family, watch movies, conduct research, and further your formal education without ever leaving your computer! Maptek wants to provide the same convenience to our clients who want to learn about our software online.
What got you into mining?
I graduated from Colorado School of Mines as a single Mom of a teenage daughter. I needed a job that would allow us to stay in Denver. I was lucky to find Maptek, where I could practice my natural affinity for teaching while sharpening my software skills. As a lifetime rockhound, I was excited to apply my engineering skills to the mining industry!
What do you like most about your job?
I am a born teacher. Anything I can do to help someone else grow makes me happy. It is also great to work with a talented group of driven people.
What do you do outside of Maptek?
My husband and I enjoy traveling, rockhounding, catching up on new movies, and gardening. I also hang out at the gym, hike, and practice yoga when I can find the time.
What's the most useful thing you've learned recently?
While creating content for our new course, Open Pit Drill and Blast, I had the opportunity to learn about our Vulcan and BlastLogic tools. After over 10 years at Maptek, this was my first exposure to blast design. It goes to show that there is always something new to learn!
What is your favourite Maptek product?
It is hard to pick a favourite. Each of our products have different strengths! Of course, I think Online Training is amazing because it allows you to learn at your pace, on your schedule, without ever leaving your desk! I think the bite-sized videos are easy for people to fit into busy schedules.
I am also impressed with the powerful solution that our PointStudio software and laser scanners provide for geotechnical analysis. Our scanners can produce extremely high-resolution images, that one can drape over a point cloud for a 3D representation of field conditions. With detailed, 3D images, a geotechnical engineer can potentially spot underground and open pit weaknesses from the comfort of his or her computer. Stereonet analysis is a snap with PointStudio, which also offers the ability to quickly extract discontinuities from scan data, generate Rose Diagrams, and query waviness.
How do you see mining developing in the future?
With virtual reality (VR) functionality getting more robust and affordable every day, I believe that mining engineers and geologists will one day use VR tools to analyse deposits, optimise designs, and streamline operations. Maptek is well on the way to serving the mine of the future. We can already easily import our high-resolution scans and images into a VR environment that engineers and geologists may analyse without venturing to the field.
I picture future engineers standing in a life-size replica of their design moving components around like John Anderton (Tom Cruise) in Minority Report.
Do you have a tip for our readers?
Never stop learning! Set aside time every day to learn something new that will enhance your personal or professional life. No increment of time is too small. Even 5 minutes per day accumulates to over 30 hours of learning at the end of the year!
Want to learn more about our people? Check out the previous post in the series: 60 seconds with Luke Victor
---