Adelaide Uni Software Engineering students visit Maptek
Friday, June 17th, 2016
---
Adelaide University Software Engineering students found great value in touring Maptek Adelaide in late May.
Senior Software Engineer Anthony Gibbs outlined to the Masters students the history of Maptek and the processes the company uses to develop its programs.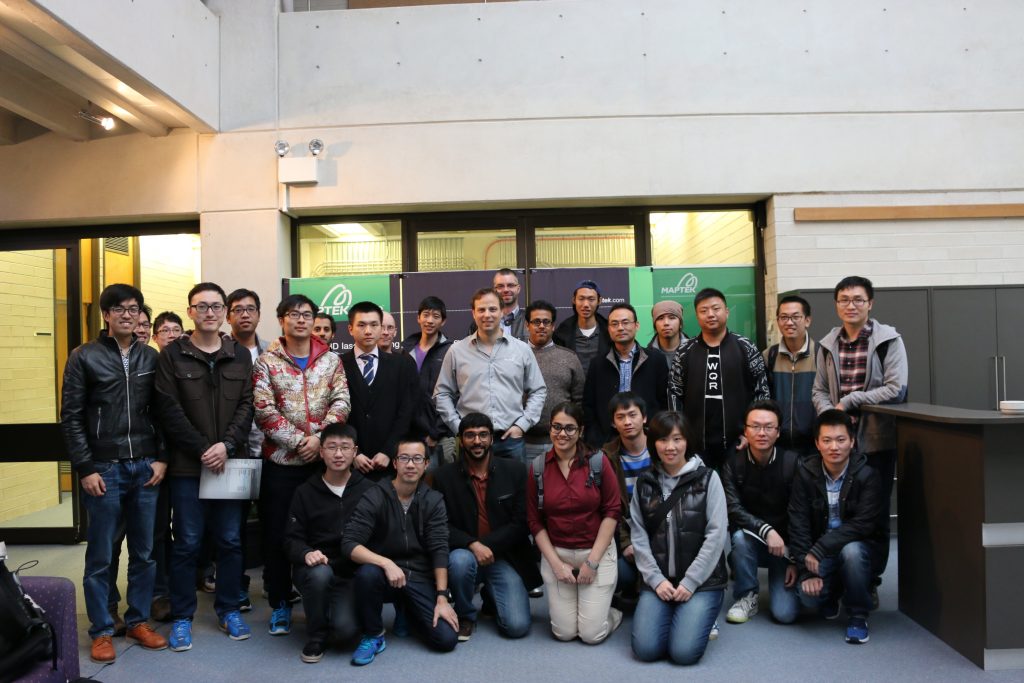 They also toured the I-site 3D laser scanner production facility.
Prof Michael Sheng said it was "an impressive visit and students were very excited".
Below is a selection of comments group members shared about the visit:
"Anthony, thanks for taking the time to give us a valuable insight into the real-world process of software development, and for answering all of our questions. Could you pass on my thanks to your colleagues as well. Thanks, Chris"
"It was a great opportunity to visit one of the largest software companies in South Australia. The visit was so helpful as I have been exposed to how software and hardware work. In addition to that, it was exciting seeing how hardware is being manufactured. I would like to express my sincere gratitude and appreciation to MapTek staff for their openness in answering our questions. Yours sincerely, Mohammed Almiyad
"Thank you for the overview of Maptek's history and the newest technologies of today. I'm currently self-learning computer vision, and it's awesome to see industry work in the area. It was really interesting to see how hardware and software are integrated together in the same office. Christian"
"I really appreciate Maptek gave us a wonderful presentation and provided an exceptional onsite visit about the real software engineering. This onsite visit is helpful and valuable. The efficient task management methods, the excellent hardware production and quality control are what I learned from the onsite visit. Cheers, He Jiang"
"I would like to thank the Senior Software Engineer of Maptek Antony Gibbs for welcoming us and for an outstanding delivery of the content and the clear explanation of various aspects of the Maptek company. Moreover, I appreciate his time and effort in answering our questions. The lecture content was comprehensive and it gave me insight and knowledge about the different activities of the company and their services to customers. Combining the lecture with the tour delivered by the Maptek team has given me a further understanding of the full process of generating their products from the assembly stage until the delivery stage. Really, I was honored to be given this opportunity to meet Antony Gibbs and his team to know about one of the Australian and world leading companies in the mining industry. Best Regards, Fouad Al Omran."
Maptek has strongly supported universities across the globe for more than 30 years by providing educational software licenses and technical guidance.
Learn more about Maptek university partnerships here: www.maptek.com/university/