Maptek shares expertise with mining engineering students
Wednesday, October 25th, 2017
---
An intensive training workshop held over the weekend of 13-15 October at the University of Wollongong delivered valuable skills to mine engineering students.
Professor Ernest Baafi, Department of Civil & Mining Engineering, expressed gratitude to the Maptek trainers Susanna McKay and Richard Jackson, who were keen to engage the students around how to apply concepts learned in lectures in real world situations.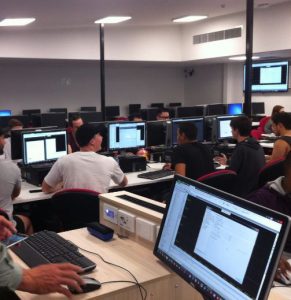 Maptek provides the University of Wollongong, among many other educational institutions, the latest version of Vulcan software at no cost to equip students with skills that would be otherwise difficult to teach in the classroom.
'We conducted 3 days of metalliferous block modelling and geostats instruction as part of the coursework for 3rd year mining engineers. This has been part of an ongoing collaboration between Maptek and the university, which is looking to expand the Vulcan coursework offering to geology students in the future,' Susanna explained.
Maptek plays a key role in supporting students in the technology sector.
'The mining industry recognises that data usage will be a key competitive differentiator for companies. It's important that students understand how technology impacts efficiency across the value chain, and it is critical that they are job-ready when they finish uni', said Peter Johnson, Maptek Managing Director.
The usefulness of the workshop for mine planning studies and future careers was universally acknowledged. As one student put it, I really find it interesting because thanks to this software we are able to use any drillholes, verify the data, construct 3D and finally do some geostatistical estimation. 
For more information on how Maptek partnerships provide the opportunity to apply latest technology to real-world data through classroom teaching, research and project work, click here.