New automation for Vulcan GeologyCore
Tuesday, March 28th, 2023
---
The latest release of Vulcan GeologyCore ensures that geologists can concentrate on their core professional expertise.
Maptek customers are experiencing skills shortages across their business, and tools that can increase productivity for routine geological processes are in high demand.
New staff have little time to follow complicated processes, which is where automation and using the smartest tools makes most of the available resources.
Vulcan GeologyCore provides a dynamic workflow for validating drillhole databases, assigning domain codes and generating geological models direct from drillhole and other data.
Multiple enhancements for more powerful, consistent and repeatable modelling in this release target the vein modelling workflow, supporting the modelling of complex vein networks that pinch and have complex folding, along with improved snapping of drillhole intercepts.
The new drillhole visualisation toolbar saves time in the modelling process, and geologists can easily create virtual subsets of the drillhole database to quickly recall selected holes.
Increased auditability is delivered via automatic generation of PDF charts displaying domain and grade statistics and the ability to track manually edited data.
According to Maptek Senior Technical Lead Richard Jackson, the 2023 version of VulcanGeology Core is the most exciting release for geologists, because it creates an easy to use 'recipe' that covers the entire geological modelling process from domaining to model generation.
'Easier, and more repeatable domaining was the focus of the inaugural VulcanGeology Core release in 2022,' Jackson said.
'This approach helped geologists to remain confident in their decision-making process, even when new data is introduced.'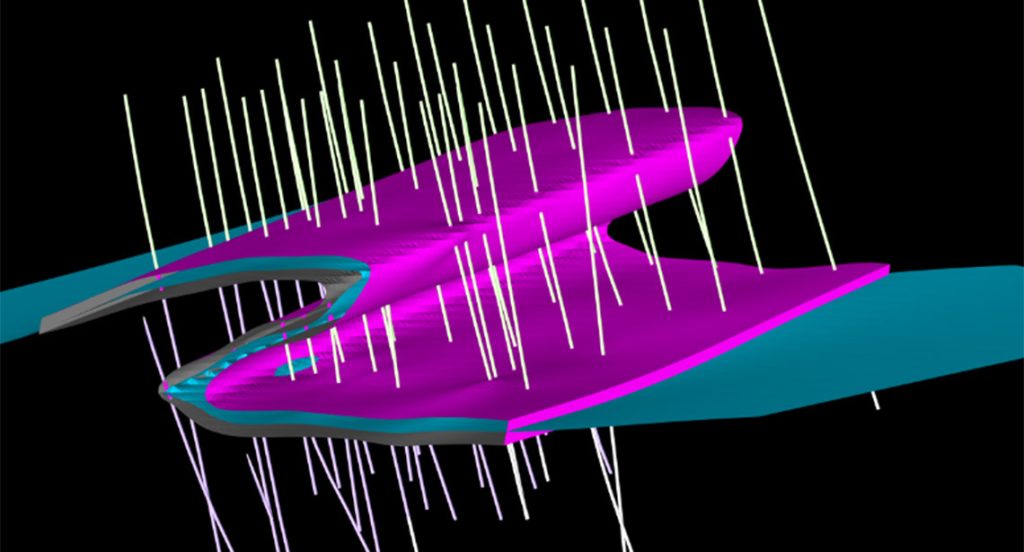 In 2023, Maptek has leveraged automation for the modelling and wireframe process in Vulcan GeologyCore. Adding new data is as simple and quick as a mouse click, with model updates available in minutes.
Other enhancements in the 2023 release that seem minor at first glance, can contribute to turning out accurate, data-driven resource models every time.
'I really like how I can turn labels on and off through the new drillhole visualisation toolbar, without having to change panel settings,' Jackson said, 'and the same applies to changing the colour spectrum to denote grades for a specific group of holes.'
'It's more than saving time, it's confidence that the process is repeatable for the way our customers want to run their modelling on a site or deposit.'
'We know that data or domains can be added, or that other geologists in the team may have to generate the model during their shift, and the recipe book's already there to guide them,' Jackson concluded.

Vulcan GeologyCore is automatically available for Maptek customers with a Vulcan GeoModeller or GeoStatModeller entitlement, and the geological modelling workflow can also be purchased as a standalone package.