Joana Sousa wins Maptek Woman in Technological Innovation award for 2023
Wednesday, September 6th, 2023
---
Joana Sousa, Lead Data Scientist for BMA has won the 2023 Maptek Woman in Resources Technological Innovation award hosted by the Minerals Council of Australia.
Joana Sousa, the Lead Data Scientist for BMA, has emerged as the shining star of innovation in the mining industry by winning the prestigious 2023 Maptek Woman in Resources Technological Innovation award. The ceremony took place in Canberra on September 5, marking a significant milestone in her career.
Joana's path to success was inspiring. Her entry into mining came through BHP's Female Talent Acceleration Program (FTAP), an initiative designed to diversify talent pipelines within the minerals industry. She exhibited immense determination to learn English and grapple with complex programming languages like Python.
In her role as a Data Scientist, Joana recognised the importance of establishing robust connections with customers and conveying her work effectively. Solid support from leaders, combined with mentorship, allowed her to graduate from the program and take on the role of a Junior Data Scientist within a year.
Joana showed a willingness to step out of her comfort zone by taking on a secondment and becoming BMA's youngest-ever Product Owner. This was a pivotal moment, with responsibilities including product roadmap delivery, stakeholder engagement, prioritising functionality and budgeting. These experiences earned Joana the role of Lead Data Scientist at BMA, where she spearheads the pursuit of machine learning and data science excellence.
Other finalists for the 2023 national award were Eva Lebedeva (Glencore McArthur River, Northern Territory), Samantha Langley (BHP, Western Australia) and Joanne Henry (WesTrac, New South Wales).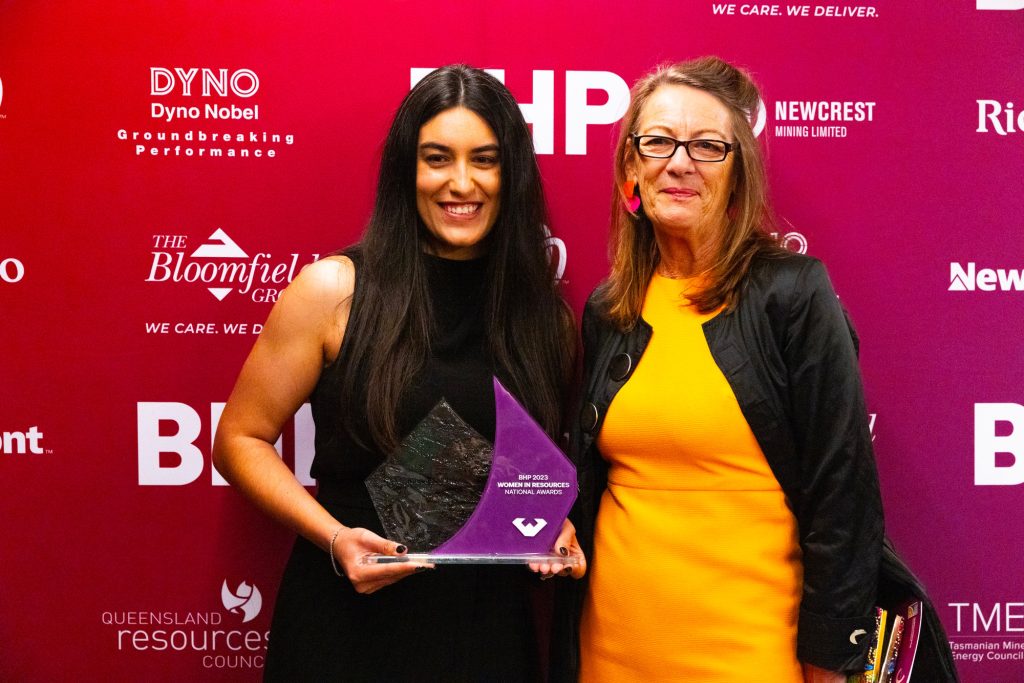 Joana Sousa winner of the 2023 Maptek Woman in Resources Technological Innovation award presented by Jane Ball
Joana's achievement reflects her exceptional contributions and dedication to pushing the boundaries of technological innovation within the resources sector.
Reflecting on her journey, Joana said her enthusiasm for digital innovation blossomed during her tenure at Portugal's first-ever digital-only insurance company, where she witnessed the transformative power of data-driven decision-making.
Joana credits her mentors and role models for providing valuable guidance, fostering confidence and promoting a sense of belonging for women in technology and mining.
Joana remains committed to nurturing the next generation of women in STEM roles and is a mentor for the BHP FTAP and SheCodes, an Australian program aiming to inspire women to pursue careers in technology.
She is enthusiastic about tackling new challenges and harnessing the full potential of machine learning to make positive contributions to her teams, BHP, and the communities she serves.
Maptek CEO Eduardo Coloma congratulated Joana on her success and drive to apply data science to address unprecedented challenges and create innovative solutions.
'Joana's journey is a personal triumph and an inspiration for women aiming to make their mark in the world of technological innovation and resources. Her dedication to elevating women in the industry showcases her determination to create an inclusive and empowering environment and Maptek is proud to support her with this award,' Coloma said.