Vulcan helps students win international design competition
Wednesday, March 15th, 2017
---
University of Alaska Fairbanks (UAF) Mining Engineering students took advantage of Vulcan mine planning and design tools to claim victory in an international competition.
The Goldstream Aggregates were crowned winners of the SME NSSGA (National Stone, Sand and Gravel Association) student design competition at the SME Annual Conference & Expo last month.
Aggregates team leader Alan Lipka said Maptek technology was integral to the UAF team's success in the competition which is open to undergraduates studying mining or related fields worldwide.
'Vulcan played a key role in allowing us to design our mine quickly and effectively,' said Lipka.
'Preparing a drillhole database and generating a quality geologic model with Vulcan's stratigraphic modelling tools was a breeze. Pit designs, life of mine planning, reclamation plans, and their various iterations were also simple to create and modify.'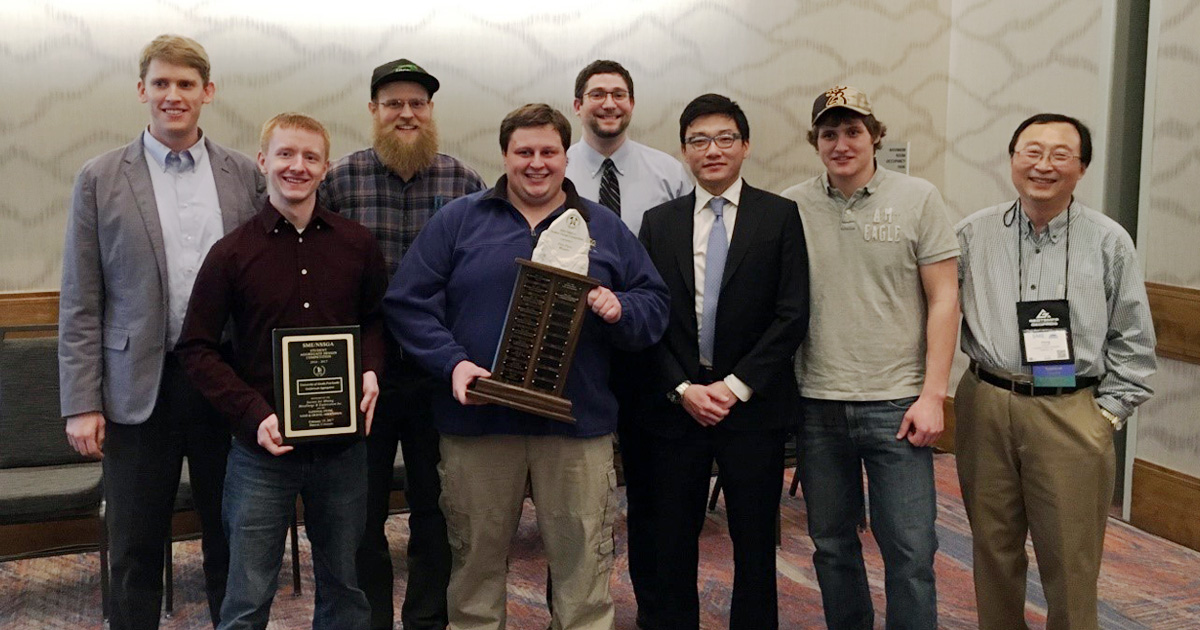 The first stage of the contest, which took place on campuses during the northern hemisphere autumn, required teams to prepare an operation and development plan for an aggregate mine based on a brief site description, operational constraints and a handful of drillhole logs. Design team members were limited to 35 hours' work on the project each over the three weeks.
The six highest scoring teams were invited to the conference in Denver, Colorado, to compete in the second phase.
The Aggregates became the second UAF team to qualify for Phase 2 in the competition's history and were pitted against teams from McGill University, Queen's University, University of Kentucky, Virginia Tech and West Virginia University.
Phase 2 was much more intense, said Lipka, as additional constraints and demands were added to the problem statement, requiring a complete overhaul of the mine plan.
'We had only two days to update our project and prepare our presentation. The laptop and Vulcan software provided by Maptek proved invaluable in enabling us to model crucial aspects of our new design.'
Despite flight delays, lack of sleep, and a misunderstanding regarding conference room usage, the Goldstream Aggregates team managed to turn their design into a cohesive presentation.
'The panel of industry experts had many questions regarding our proposed design but we were well prepared with answers and diagrams to explain', said Lipka.
After an anxious wait, the announcement came a few hours later: 3rd place Queen's University, 2nd place University of Kentucky, and 1st place University of Alaska Fairbanks!
'While the judges didn't agree on whether our plan was operationally feasible, they were impressed by the detail of our design, geologic modelling, and in-depth economic analysis.'
'The competition as a whole was a great team experience to practise designing and communicating mining solutions with real world constraints. We thank Maptek for providing the laptop and Vulcan software which enabled us to succeed!'
It was hard work, but winning made it all worth it. – Ethan Trickey, UAF Team Member