University partnerships
Maptek supports students at the University of Adelaide through research project sponsorship and the annual mine design prize.
Students solving real world problems
Maptek has sponsored several research projects at the University of Adelaide, mentoring students as they apply their learning to industry problems.
Maptek mentors and software engineering students from the University of Adelaide, South Australia have worked together to fight computer hackers in one of four research projects.
A group with Harkaranveer Singh, Manraj Singh Dua, Tze Chung Tai and Mitchell Martinez set about implementing cyber security concepts to obfuscate neural networks and infer results using graphics processing unit resources.
'The goal was to prevent hackers or malicious users from discovering the inner workings of the neural network and stealing intellectual property,' Harkaranveer Singh said.
Singh, who will start an internship with Maptek this month, says that the agile development approach and sessions with mentors open to novel solutions gave his team great insight into industry practices.
The other projects covered Fake Geological Models, 3D Complex Geometry Calculations and Block Model Compression.
Anthony Seager, Scott Ahern and Thomas Papaemmanouil worked on Fake Geological Models, aiming to create a program that could randomly generate realistic looking block models given a user's input.
'As a software engineering student I knew little about geology, let alone block models and the structure of ore deposits,' Seager said.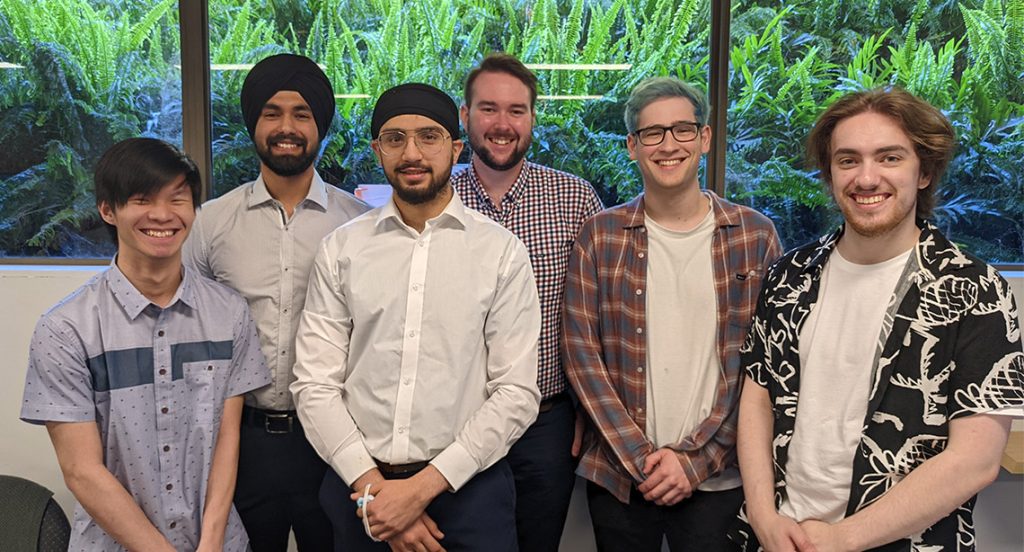 Seager, who has also scored a Maptek internship, learnt the use of Maptek Evolution mine scheduling software and Python scripting.
Maptek Global Development Strategy Manager Will Reid says the projects are a win-win.
'Students get access to an industry project and industry professionals, and Maptek gains solutions to problems we haven't had a chance to look at yet,' he says.
'These students will enter the workforce and contribute to technical advancements being made here and around the world,' concluded Reid.
Maptek actively supports universities across the globe by providing educational software licences, hardware donations and technical guidance.
Final year mine design prize
Maptek awards an annual prize to final year mining engineering students at the University of Adelaide in South Australia.
The 2021 Maptek Mine Design Prize winners are looking forward to greater job opportunities and the chance to emulate the success of previous winners.
This year's annual prize, contested by groups of final year University of Adelaide Mining Engineering students, was won by Cheng Li, Claudio Wiehe Jr and Yixuan Xiang.
Given a resource block model for a copper-gold project, groups had to convert this to a mining reserve for extraction by both open cut and underground mining methods.
Maptek Senior Technical Sales Specialist Steve Sullivan, who provided Vulcan training and assessed the entries, said the winning team presented the most comprehensive study and managed the important transition from open cut to underground method best.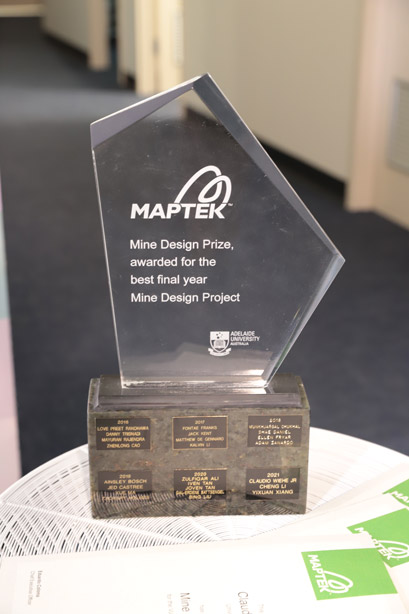 Claudio Wiehe said communication and understanding were the key to the team's success. As future workmates they will keep helping each other to succeed.
'The recognition by Maptek was worth the effort,' he said.
Cheng Li (Ethan), has started work at Maptek full time with the Evolution mine scheduling team after working on a part time basis whilst studying this year.
'I enjoyed learning Vulcan and this project definitely reinforced my interest to pursue a career in mining engineering,' he said.
Yixuan Xiang is following in her father's footsteps – he graduated as a mining engineer in China and worked as a civil engineer. She was glad of the chance to study mining engineering in Australia.
'As a graduate mining engineer, this prize definitely gives me confidence – it proves that hard work will pay you back in the end,' she said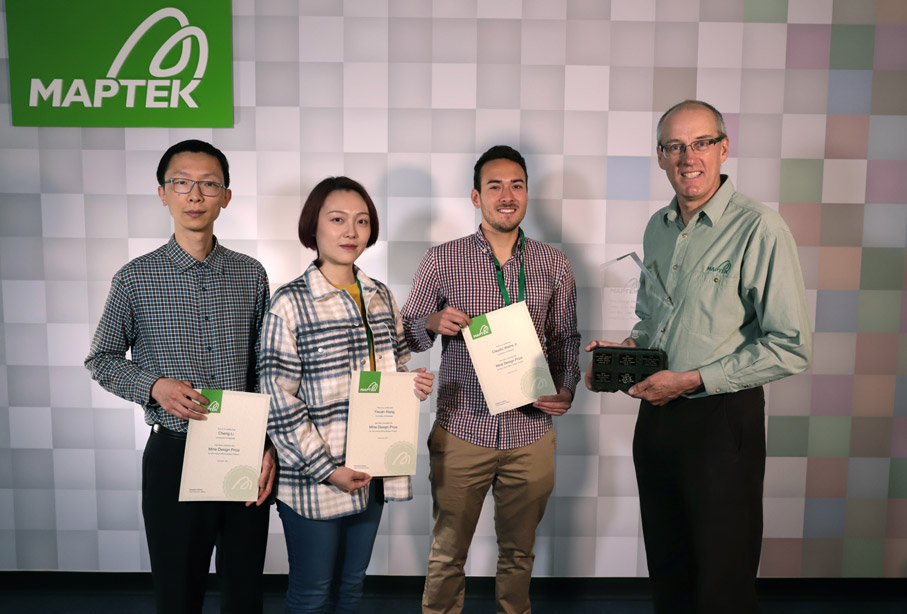 Maptek has supported the University of Adelaide since 2010 when the mining engineering undergraduate course commenced.
'The commitment was highlighted when this year's winners saw names of past winners who now have senior positions in industry. In a couple of cases, the current winners had applied for graduate positions to past winners. A nice connection,' Sullivan said.
Sullivan noted a decrease in enrolments in mining engineering across all Australian institutions. This year there were 13 in the local course, whereas a few years ago class sizes were 40-50+.
The upside for current students is that they all step straight into jobs, and often have multiple choices.
He said there was a need for more students to graduate as mining engineers to help the industry grow and maintain the standard of living to which we have all become accustomed.
Research projects allow software engineering students to work on real world problems faced by the mining industry
University of Adelaide students benefit from mentoring by industry leaders, and can contribute immediately they enter the workforce
Maptek provides educational software licences, hardware donations, technical guidance and internships