New global role to drive communications around technology value
Maptek has appointed North American-based Mining Engineer, Jesse Oldham to the new position of Global Product Market Manager.
The new role will see Oldham work closely with Maptek product managers to better connect value across our product lines.
After graduating from the University of Utah with a Bachelor degree in Mining Engineering, Oldham joined the Maptek technical services team in Denver where he provided Vulcan customers with training and technical support.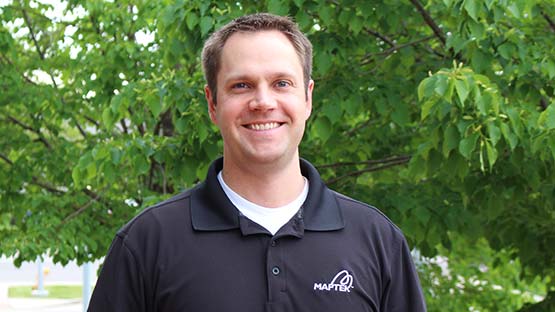 At the same time, he consulted to numerous North American operations, concentrating on underground mine design and stope optimisation projects. This sparked an interest in the product development aspects of the business, and Oldham stepped into a Vulcan project leader position.
Oldham later gained additional exposure to the application of technology in mining beyond mine planning and geological modelling.
'I had always focused on the mine planning side of things and the role of technology as it relates to those activities and processes. The opportunity to explore outside the mine planning space enabled me to better appreciate the value of technology in operational areas such as blasting, monitoring and data collection,' reflected Oldham.
'I became excited about exploring solutions and combinations of solutions across the mining and processing cycles. There is so much extra value and productivity that can be gained through a holistic view of mining operations.'
Value is a term that comes up a lot in conversation with Oldham.
As Product Market Manager for North America, he applied his experience to understanding the value that Maptek provides across product lines so he could align this with industry productivity objectives.
'Maptek is in a great position to execute on delivering that value.
We have great solutions and a great client base to help drive industry take-up of new technology.'
There has been a discernible shift in attitudes to technology since Oldham began his mining career.
'Adoption of technology introduces change and that introduces a large change management component. Understanding and communicating value to the stakeholders increases buy-in and alignment across a site and company wide.'
'Maptek helps our customers to better drive change within their own business and achieve the results they are after.'
Oldham believes the workforce is also radically different in terms of their relationship with technology.
'Many of today's mining professionals don't know life without technology and they expect a higher level of enablement from it.'
This is where Oldham's new role intersects with industry needs.
'We are engaging in value based conversations with our global market. Maintaining a holistic view of mining processes will ensure that our solutions improve overall operational productivity,' Oldham concluded.
Maptek is focused on working with customers to help identify efficiency gains at their sites and aid them in adopting new technologies to improve their business.
Maptek establishes new global role to explore value across integrated solutions
Today's mining professionals expect a high level of enablement from technology
Improving customer outcomes for driving change within their operations