Making geostatistical modelling masters
Maptek and the Adolfo Ibáñez University have collaborated to initiate a new Masters course, preparing mining professionals in South America to lead their industry.
The first Masters in Geostatistical Modelling of Mineral Deposits commenced on May 24 this year.
Taught by Maptek and the Faculty of Engineering and Sciences of the Adolfo Ibáñez University, the innovative two-year program aims to prepare industry professionals to implement cutting-edge tools for estimation, evaluation and simulation of mining resources.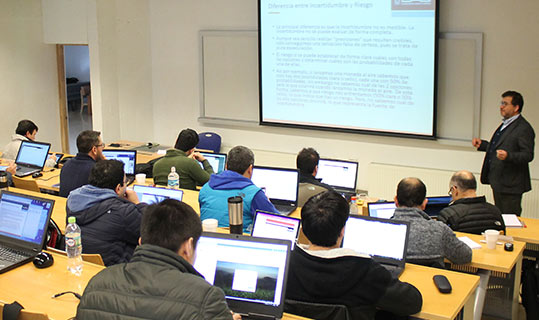 In the last 15 years, geostatistical modelling and estimation of deposits has progressed from being a discipline dominated by a few experts, to becoming a skill widely spread among different professionals worldwide.
The participation of experienced academics ensures the course is well-founded. Professor PhD Clayton V. Deutsch is Director of the Center for Computational Geostatistics and Professor at the School of Mines and Petroleum of the University of Alberta, Canada, and Cristian Cáceres is Professor of the Faculty of Engineering and Sciences and Director of Civil Mining Engineering at the Adolfo Ibáñez University.
Classes are held at the Maptek offices and the Viña del Mar campus of the University, and will provide graduates with a unique set of competencies.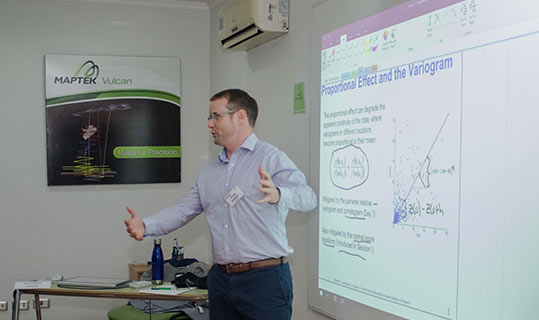 Students will master the processes of estimation, evaluation and simulation of mineral resources and modelling the spatial behaviour of deposits. The objective is to deepen their understanding of the main geostatistical methodologies, and update them on the improved tools available. They can then apply the new techniques in their companies.
The program, in which 26 professional mining students are participating, began with an Introduction to Geostatistics, providing context on topics such as the Geology of Mineral Deposits, Sampling Processes, and Construction of Sampling Nomograms.
Additional topics included Spatial Continuity and Future Development of Mining. Determining spatial continuity requires knowing the way in which any variable continues in space. The objective of the module was to determine the variogram calculation, interpretation and modelling to arrive at a spatial continuity model for all regionalised variables.
The importance of creating friendly relationships was not forgotten, and a cocktail party was held in the first week. This was a good opportunity to get to know each other and create bonds in a program that will last almost two years.
Graduates will distinguish themselves from other industry professionals as pioneers in Chile and Latin America in the use of state-of-the-art geostatistical tools. Their implementation of modern methods to model the spatial behaviour of deposits will substantially impact the mining business.