Full value underground survey solution
Within 6 months of launch, the Maptek SR3 system is satisfying the need for an all-in-one underground survey, geological mapping and geotechnical analysis solution.
The short range Maptek SR3 laser scanner combines fast, accurate sensing, an integrated 147 megapixel HDR panoramic camera and dedicated mount accessories, targeted towards improving overall efficiency and safety underground.
The productivity factor has been ramped up with the release of new workflow functionality, enabled with the launch of Maptek PointStudio 8 on the Maptek Workbench last month.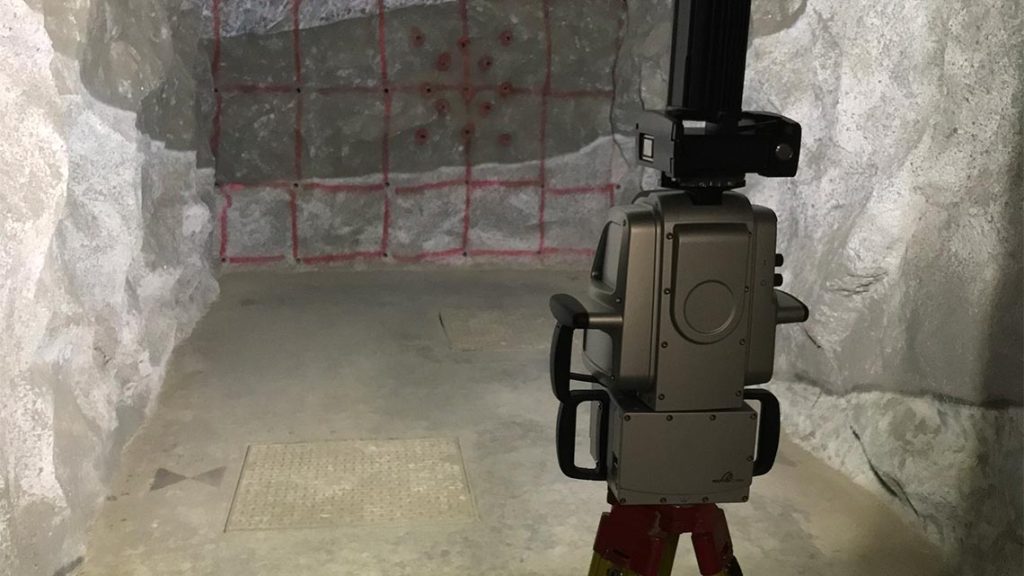 Accuracy, speed and usability are music to the ears of the operator of any technical system, more so when operating in the damp, corrosive and closed confines of an underground operation where personnel and equipment safety is paramount.
The SR3, which complements the long range XR3 and LR3 laser scanners, is designed for underground. Coupled with the latest software on the Maptek Workbench the SR3 handles daily survey, advanced structural stability analysis and high-impact geological visualisation.
Ore and stope survey
A scan window of 130° vertically and 360° horizontally captures roofs and walls in tunnels and underground drives without the need for complicated configurations. Whatever the orientation of the scanner, integrated levelling automatically corrects scans before processing, making short work of the crosscuts for daily pickups.
Scan preview allows safe viewing of the interior of stopes. For scanning in hard to reach places, operators can attach the SR3 to an extendable 4 or 6-piece lightweight boom. Mounting options are also available for underground vehicles.

The SR3 is versatile – it also handles interior survey and surface stockpile measurements.
A requested feature allows import of mine CAD strings and surfaces to view together with scans. In another first, surveyors can log onto any web enabled device and conduct a scan remotely.
Geology highlights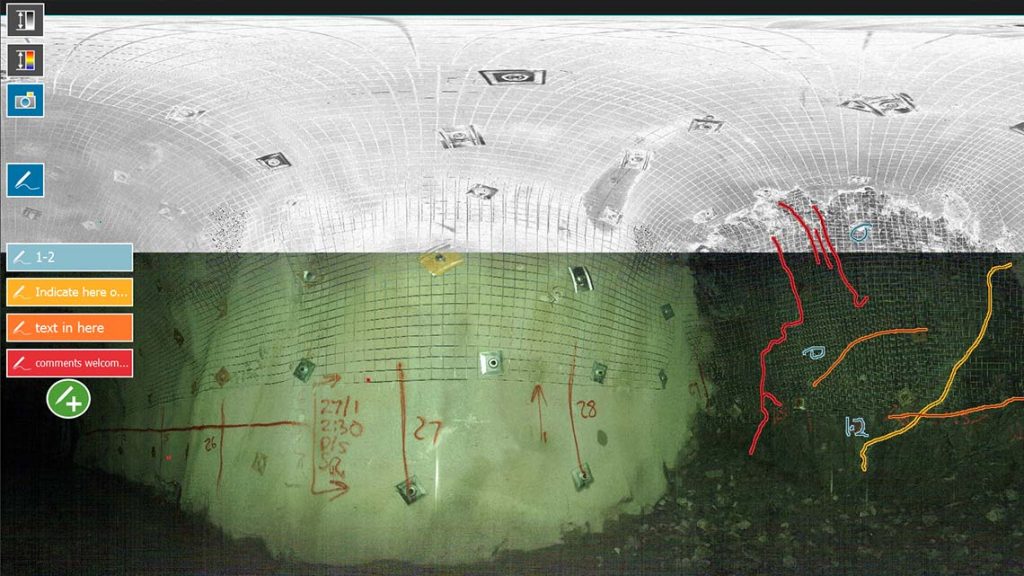 Geologists appreciate the efficient, accurate mapping of structures and ore boundaries underground with the high resolution digital camera and underground light. This replaces the lengthy data processing times incurred when using an open exposure camera to capture imagery.
Changes in geology are extremely easy to highlight using the spectrum intensity data collected by the SR3, leaving more time for interpretation such as geometric analysis of folds.
Overlaying imagery on high resolution point cloud data allows enhanced identification of structures, joints and boundaries and a new option enabled through the SR3 laser scanner controller will allow users to annotate scan images with CAD and text while in the field. Importing this information into PointStudio with the scan data advances underground face mapping capability for better interpretation.
The SR3 laser scanner is already a game changer for underground operations wanting a single technical solution for efficient survey of drives and stopes, accurate geological mapping, advanced geotechnical analysis and safe surface monitoring. Additional scope for enabling functionality through the scanner controller includes in-field registration, which is destined to further streamline underground survey tasks.
Accurate data analysis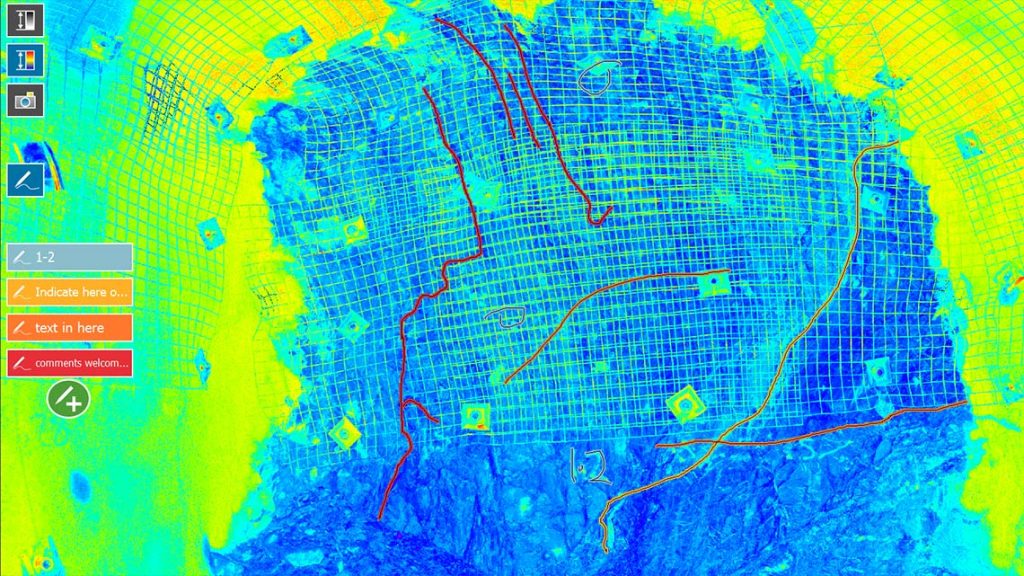 The SR3 is ideal for efficient, accurate identification of underground structures and ore boundaries. Geotechnical engineers can map rock bolts and extrapolate their location onto the hanging wall for key block analysis. Software tools for stereonet projection and extending major fault planes guide fault and geotechnical analysis.
Underground operations can use their Maptek laser scanner for critical subsidence monitoring and alarm notifications.
The SR3 laser scanner can be deployed for long-term convergence monitoring at 4 mm accuracy. It can also be coupled with Maptek Sentry software for permanent continuous stability monitoring at even higher accuracy.
Safety matters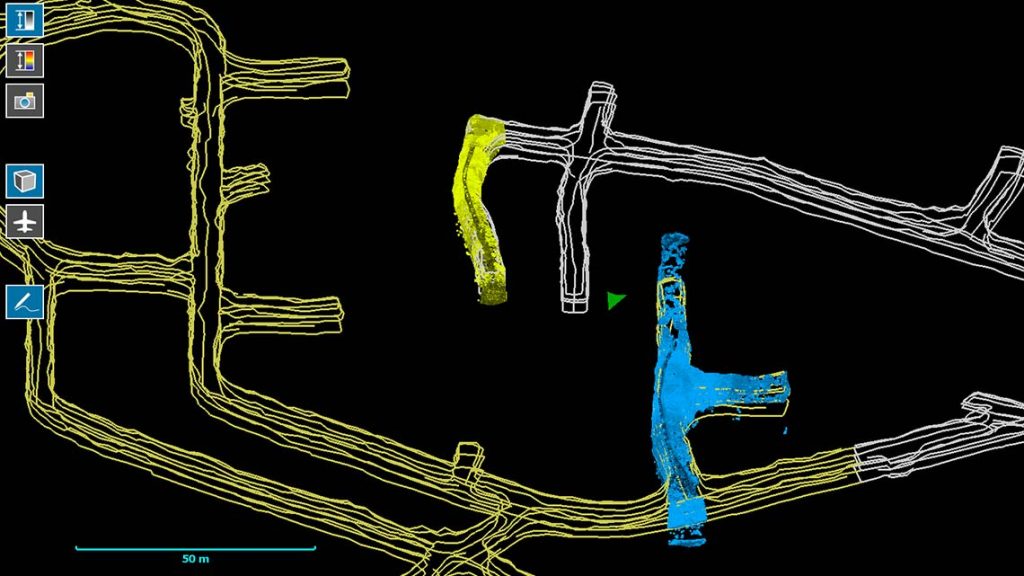 The impact of a versatile and advanced yet easy to use system on site-wide productivity cannot be ignored. The SR3 offers proven benefits for production and operational processes.
Mine to design analysis is streamlined with new automated underground reporting delivered in PointStudio 8, which allows users to easily compare designed solids against surveyed (actual) solids to identify overbreak and underbreak.
The reporting tool can be applied to development drives, stopes or crosscuts for improving grade dilution, highlighting unstable areas and reducing costs by identifying unnecessary development and pre-blast issues.
Engineers can also conduct shotcrete analysis, comparing scans to calculate volumes and target progress.
Operations can be assured of comprehensive on-site training when implementing the SR3, as well as responsive local technical support.