Data visualisation revolution in mining
South African mining companies are poised to take advantage of new technology to enhance mine planning, improve safety and reduce costs.
In December 2018, personnel from LlamaZOO Interactive and Maptek South Africa demonstrated the potential of data visualisation, in the form of augmented or virtual reality (AR/VR) for mining companies.
Charles Lavigne, CEO of LlamaZOO was impressed by a business culture in South Africa that embraces innovation.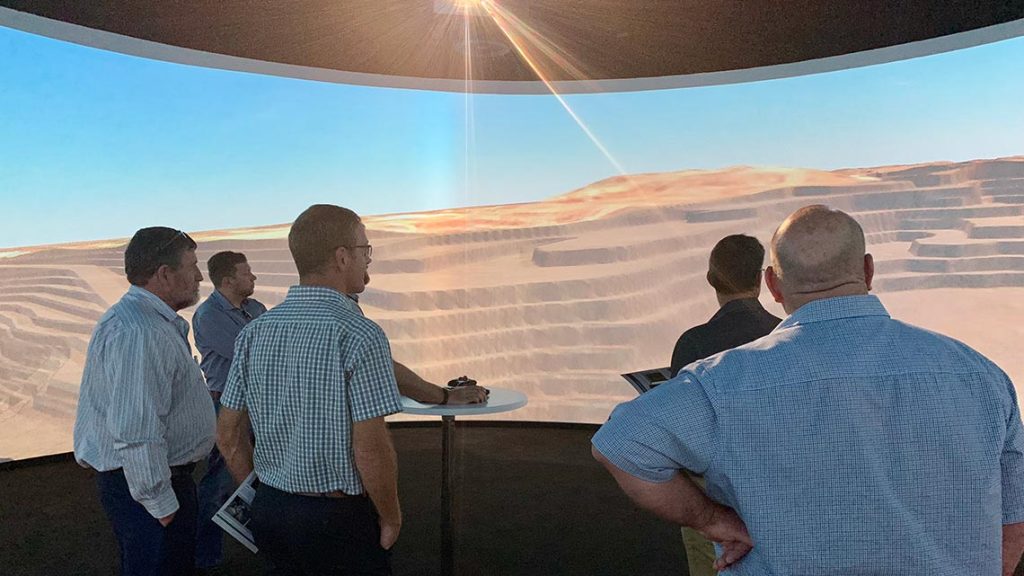 'Mining companies in Canada, Australia and now South Africa are already using data visualisation and VR to speed up the mine planning process and reduce costs. One of our customers used LlamaZOO MineLife to create a digital twin, or 1:1 virtual replica, of a planned mine site. They started the project two years early and saved millions of dollars,' said Lavigne.
The digital twin included drillholes, facilities and equipment, roads, forests and wildlife populations. The entire scene could be explored from a 10,000-foot view down to ground level using a VR headset.
VR and other data visualisation technologies meant that fewer people had to be transported to the remote mine site, saving thousands of dollars, and making the planning and training process much safer.
Combining Maptek scanning technology, LlamaZOO data visualisation capabilities and cloud networking means anyone can use the technology from anywhere in the world to make faster, better, safer decisions.
Nick Venter, General Manager Maptek South Africa, explained, 'A digital twin allows different planning scenarios to be simulated, and the impact of each can be clearly visualised. For example, for a major coal customer, we transferred mine schedules generated in Maptek Evolution into VR.'
'We then navigated through the different phases of extraction. This is a very effective way to communicate complex information. Miners are keen to discover ways that a digital twin could deliver real value to operations.'
Real-time visualisation
Resource companies seek to make their operations more agile to drive cost savings. Data from various sources, such as haul truck telemetry, SCADA-connected devices in mine site installations, and individual workers in the pit, can be combined to create a real-time live digital twin that is presented via data visualisation to operations staff.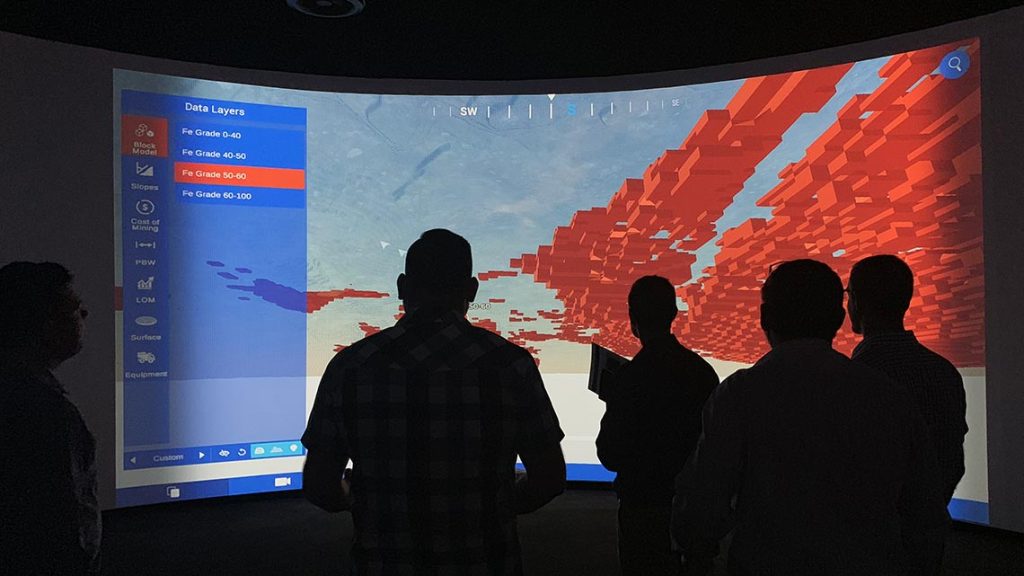 Fleet management is a strong case for real-time visualisation. By feeding live fleet data from Maptek partner MinLog into MineLife, any manager anywhere can monitor machine health and driver behaviour.
'By remotely monitoring wear and tear on haul truck tyres, one of our Canadian customers saves nearly a million dollars a year at one operation,' noted Lavigne.
Haul truck telemetry allows checking of meta performance data, such as driver name, speed or oil pressure. This information could be used to highlight whether particular drivers need more training. It could also allow sites to measure the efficiency of haul routes and where repairs are needed.
Survey data along the haul route could call attention to potential hazards and whether the routes have been built according to specification.
Modelling drill and blast
Data visualisation such as AR/VR brings the abundance of data in a complex mining ecosystem to life, helping identify where business performance can be improved.
Drill and blast is one of the biggest cost centres for an operation. It has a major impact downstream; for example, sub-optimal fragmentation can have a negative effect on processing, and incorrect slope angles can affect slope stability, which leads to higher risk.
Users of Maptek BlastLogic can already test, measure and optimise the entire process. AR/VR data visualisation takes it a step further by making it very easy to digest and communicate information.
OCC 3D (LlamaZOO's operational command and control solution), allows mine operators to visualise the drilling process in real time. Information from BlastLogic can be imported into MineLife and the blasting process can be simulated to identify possible constraints, inefficiencies and bottlenecks.
Testing scenarios
VR is a powerful mine planning tool. A large iron ore operation in the Cape takes different market prices of iron ore and determines the economic feasibility of extraction based on exploration data.
The mine site is always changing, and mining companies need efficient ways to monitor and update data. Maptek Vulcan visualises the data and Maptek Sentry can analyse slope condition.
Making data universally accessible in visualisation platforms means that insights gained are more actionable.
For example, a company with underground operations wants to build a digital twin of their mine to identify potential hazards and tunnels in which machines may become obstructed.
Greenfield projects
Funding and permitting greenfield or expansion projects requires buy-in and sign-off from multiple stakeholders. Engagement takes significant time and energy and can introduce risk and uncertainty into the mine planning process.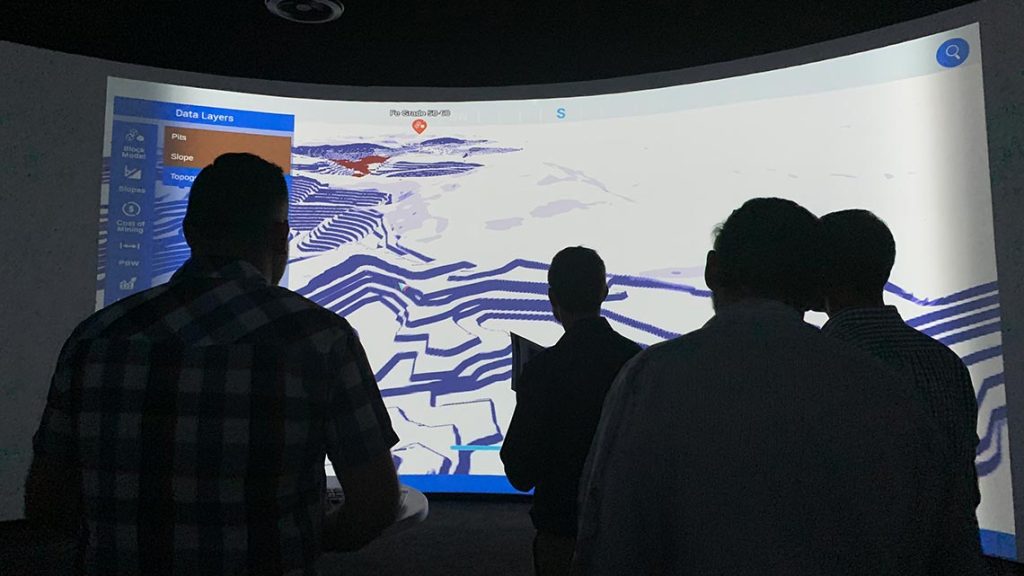 Customers see the immersive nature of data visualisation as a particularly effective means of presenting information. A digital twin makes it easier for investors and other stakeholders to understand the value and potential impact of a mining project.
Mining companies must work with governments, regulators and local communities to earn the social licence to operate a mine over its life. If a government or host community does not understand how the impact of a mine can be controlled, or how future remediation and restoration will occur, it may take years to get off the ground.
It is costly and potentially risky to fly stakeholders to remote locations where mines are planned. A digital twin allows stakeholders to get a clear sense of what's being planned in the near-term, or decades into the future. There is no need to travel to the physical mine location.
Personnel training
Innovative South African mining companies have begun thinking about the potential for employee training. For example, training haul truck drivers is expensive, and not without risk. Shifting training from the mine site to a digital twin visualised in a classroom setting minimises costs and risks.
Venter concluded, 'This can already be done. Trainees can learn the job and familiarise themselves with the mine, without actually being there! We can upload accurate lidar data, captured by Maptek laser scanners for example, to create a true representation of the mining environment.'
Data visualisation will revolutionise the mining industry by improving communication, speeding up mine planning, reducing costs and protecting the key assets of an operation.
Thanks to
Charles Lavigne, CEO
LlamaZOO Interactive