University partnerships in Chile
A combination of theoretical knowledge and practical skills in the application of world-leading software is essential for future mining professionals.
University of Talca
Last semester Maptek software was used by 25 students from the Civil and Mining Engineering faculty of the University of Talca, Chile. This semester 46 students will take the Reserve Evaluation and Open Pit Mining modules.
The teaching takes a two-pronged approach, with the 4th and 5th year students first learning the theoretical concepts related to data analysis, geological modelling, resource and reserve estimation and mine design, and other topics related to developing a mining project.
In the practical aspect, students apply their acquired knowledge to develop a project and solve problems that arise. They are given a database and relevant information, and are guided by a teacher throughout the process.
Finally, students present their results to peers and teachers. The feedback reinforces the theoretical and practical learning.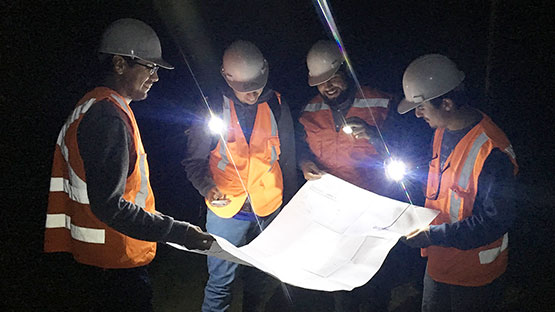 The immediate benefit is that students have access to software that is widely used in the mining industry. At the university stage, it is beneficial to learn software skills, and how to apply theoretical knowledge to real projects.
When they enter the professional world, they are then more prepared to tackle a project using familiar software and not have to start from scratch.
The partnership allows the university to deliver more instructive classes where students are taught concepts and apply the knowledge in the same course, making the learning more meaningful.
'We are very happy with this partnership. In addition to the opportunity for students to use the software, it has allowed us to place students in professional practice at Maptek. The training for teachers has enriched the development of their classes. We look forward to continuing these activities,' said Francisco Rivas, Director of the Faculty of Civil and Mining Engineering, University of Talca, Chile.
O'Higgins University
Students enrolled in Geological Civil Engineering at the Bernardo O'Higgins University in Chile are benefiting from a partnership with Maptek.
The Resource Modelling and Assessment course has a mining focus and Maptek expertise is welcomed. Access to Maptek Vulcan software gives the students practice in a modelling and mine planning solution that is used in the mining industry both nationally and worldwide.
The opportunity to address real problems in a more integrated way gives 4th year students a firmer pathway to careers in the mining industry.
'We appreciate Maptek's input to our faculty – without this support the focus of the subject would be more limited,' said Laura Piñero, Head of the Geological Civil Engineering school at O'Higgins University.
Access to commercial software applications helps students to gain theoretical and practical skills during their undergraduate studies
Final year engineering students at the University of Talca apply their theoretical knowledge to a simulated real world project and present their results
An integrated approach to studying real problems gives Bernardo O'Higgins University geological engineering students a firmer pathway to their mining careers