Vulcan 11 release targets efficiency
New functionality and enhanced tools in Vulcan 11 target the productivity improvements and efficiency gains operations require as mining activity ramps up.
Maptek Vulcan 11 continues the trend of providing an increased number of automated functions and workflows. High impact visualisation, faster processing and better ways to work with large, complex datasets help users work even more efficiently.
In March we highlighted the tools coming for resource geology applications – data analyser and kriging neighbourhood analysis. This issue focuses on new options for engineers and mine planners, as well as performance improvements across a range of processes.
Maptek Workbench
The Maptek Workbench provides a unified platform for running Maptek applications. An updated search feature allows users to search for a specific term and run the function from the relevant panels returned in the search.
The Workflow Editor allows users to build a command list for automating routine tasks, incorporating Vulcan menu items as well as common desktop tools.
Users can choose between list or diagram view, dragging and dropping nodes that represent each process. Configured components can be saved to build new workflows. Pauses and triggers for processes can be built in.
Text, scripting and spreadsheet editing applications can be incorporated. Variables can be queried and users can troubleshoot workflows.
Visualisation
Visualising multiple block variables dynamically in Vulcan 11 allows users to quickly assess all realisations of a simulation and set up animations to run through all equi-probable solutions.
New ellipsoid display dynamically updates the samples that will be selected for use in grade estimation as the ellipsoid boundary changes. The strike, dip and plunge orientations and the search lengths along each ellipsoid axis can easily be manipulated on screen. This is a very powerful way for understanding the impact of estimations.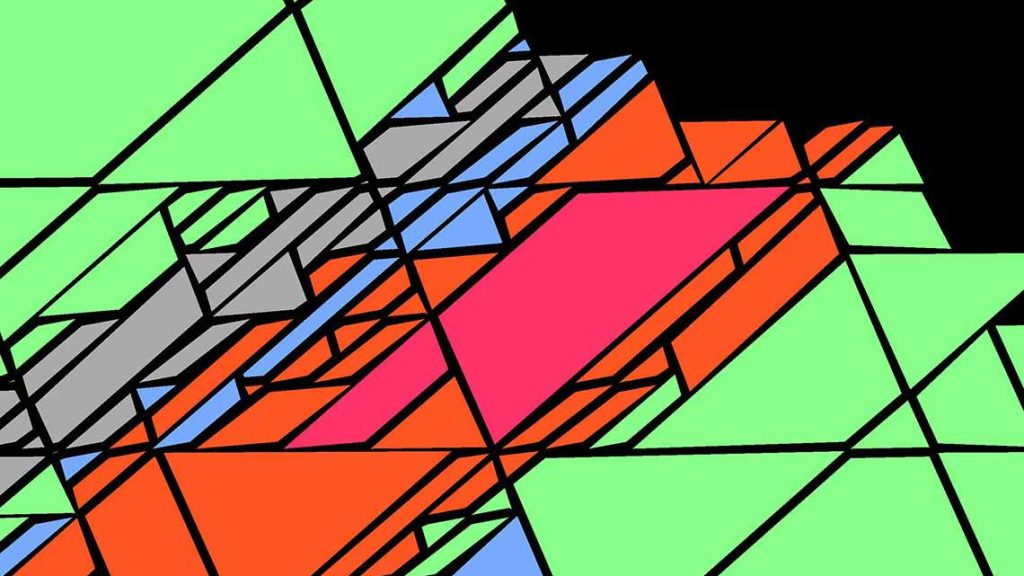 Graphics
Three new icons on the Graphics toolbar – Solid Slice, Quick Section, Tile and Tie – target niche tasks with big impact.
Users can easily generate slices from closed solids for a better view of data. Slices retain the colour of the parent triangulation, and transparency is optional. A slice can be created in either or both front and back ends of the section, or as a single slice in the middle.
The new Quick Section two-click operation requires input of two points to define a plane for slicing. Tile and Tie allows users to view multiple windows simultaneously; moving data in one window shows the data from the same reference point in each window.
Grade Control
New Grade Control features include dramatically increased speed for resolving samples, additional date formats and the ability to use Perl and Python scripts for grade estimation.
Plotting output has been improved, bench plans can be saved, blast reporting panels re-sized and grade blocks edited by a drop-down pick list.
Grade Control Optimiser
Continually improved since release in 2017, the standalone Grade Control Optimiser module helps operations improve the value of deposits. The latest update includes improvements to the core optimisation engine which guarantees locally optimal results.
The tool also includes an option to apply different mining widths. Users can choose to populate the classification grid by reading the variables directly from the block model.
The mineable optimisation area can be specified via an additional block selection, and the known upper bound is reported by the optimiser.
The time limit for the optimiser now applies to the entire problem, while recognising that the problem is split into multiple pieces.
Highwall Ramps
Engineers can now create highwall templates with improved flexibility in ramp design, including the ability to incorporate multiple ramps. Reserving is improved, with flow on to more accurate scheduling in Evolution. The upgrade supports dragline passes.

Dragline enhancements
Dragline functionality has been further enhanced to meet the goal of efficient, single menu workflows. This includes automated bench templates, the ability to follow floor undulations more closely when creating the maximum spoil profile, doze to RL and doze as flat as possible, and unlimited offset blocks for the spoil report.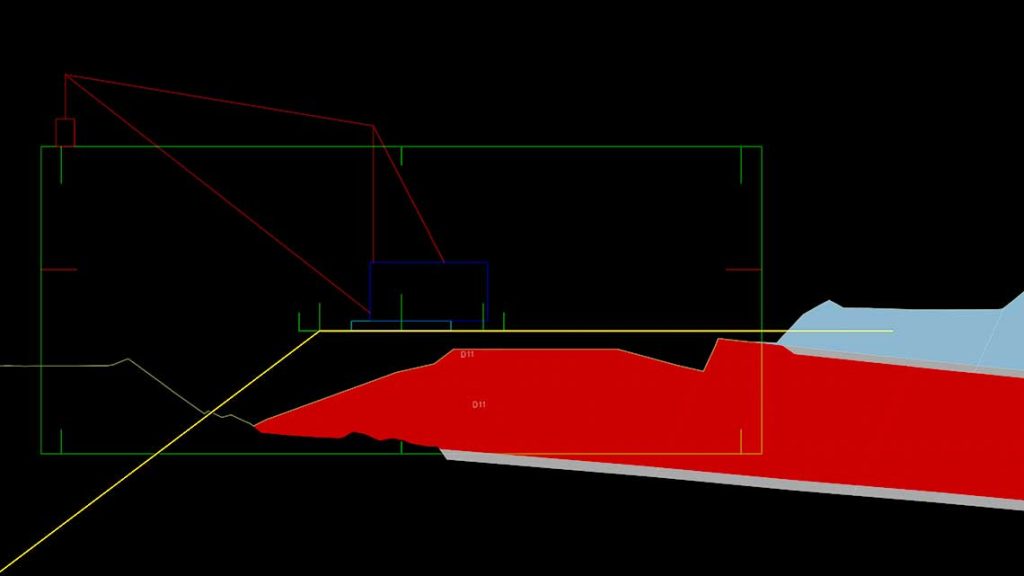 Panel Caving Design
New panel caving design functionality in Vulcan 11 will feed into Maptek's strategic CaveLogic application. The automated process for creating 3D CAD level production and sink level mining designs takes into account geometric, technical and operational parameters. Changes made to pillar dimensions and orientations, and drive widths and heights are automatically reflected in designs.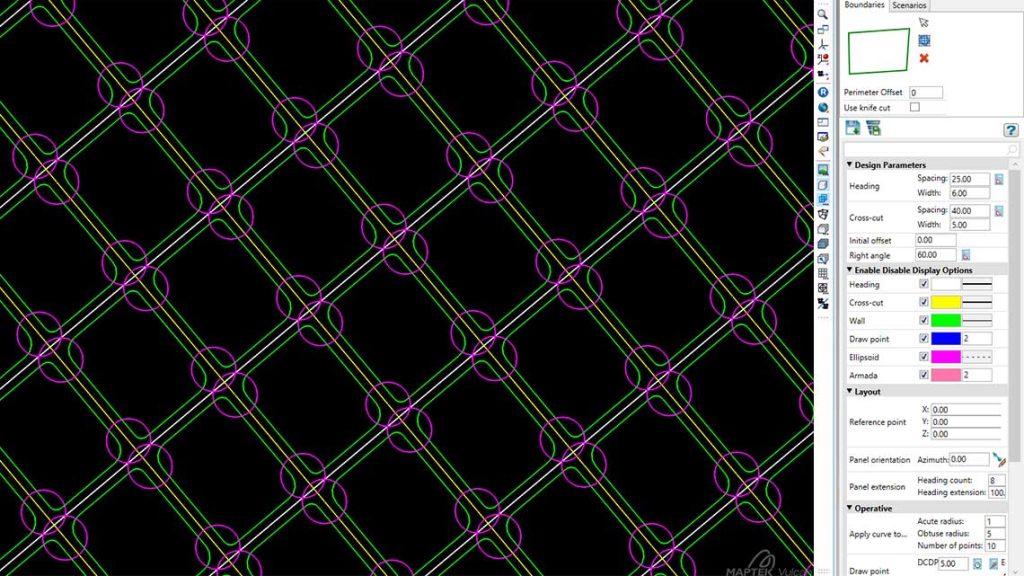 Pre-scheduling
Vulcan offers different approaches when generating mining blocks for scheduling. Mining Block Generation and Pit Splitter enhancements provide greater efficiency and improved mine planning−scheduling connectivity.
Mining Block Generation employs a simple, repeatable approach, which also maintains flexibility for updates when running calculations. Any accumulation variable, such as insitu metals or volume, can be selected and applied as a target. Dynamic adjustment of blocks allows simple, interactive solid and attribute modification on the fly.
Another improvement in the mine planning−scheduling interface allows users to populate Vulcan block models with the results from Maptek Evolution optimisation. This enables creation of end-of-period maps and animation of the scheduling phases.
Pit Splitter provides a workflow-based approach to creating solids for strip mines, with reliable output applicable to all Maptek mine planning and scheduling workflows. In addition to exerting greater control over how pits are split, users can stipulate colours and devise formula-created attributes from generated attributes. Improved options support amalgamated projection methods, projection on grids, stacking and splitting in any sequence.
Overbreak/Underbreak
Surveyors and engineers who need to frequently calculate overbreak and underbreak will welcome this new tool for comparing designs and as-builts. Clicking on each cross-section displays dimensions for as-built, design, overbreak and underbreak as well as percentage of deviation.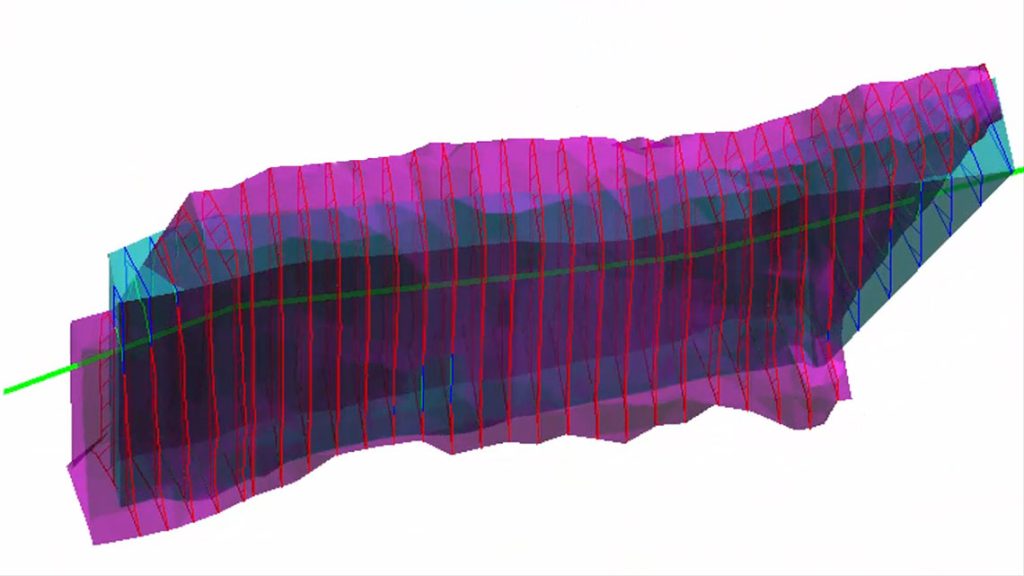 3D Geological Sculpting
3D Geological Sculpting allows solids created through implicit modelling or other techniques to be modified using a freehand or snapping mode to sculpt, deform, pinch and smooth geological models on screen. Updates in Vulcan 11 allow incorporation of production data and samples databases. Search and filter algorithms now perform up to 40 times faster. Auditability has also improved.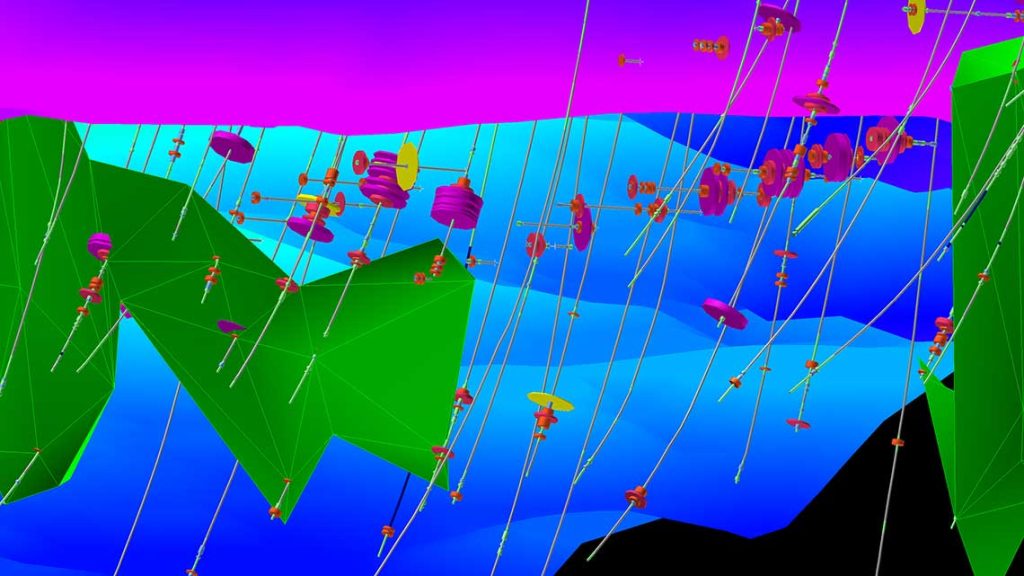 Python Scripting
Python scripting helps customise solutions for working with large data arrays in block models, databases, mapfiles, grids and triangulations. This upgrade adds support for Envisage functionality and interactivity, as well as Vulcan data structures such as design data, drillholes and samples.