Data integration and interoperability
From scripting, to data APIs and low-code solutions, Maptek data integration and interoperability initiatives are solving previously unsolvable problems.
From scripting to data APIs and low-code solutions, Maptek initiatives around data integration and interoperability initiatives are solving previously unsolvable problems.
The past 40 years has seen many changes in the mining industry and Maptek has been a key player in bringing new technologies to solve real world problems for miners.
Several Maptek software products began as purpose-built solutions, targeting a specific task or group of users on a mine. Standalone products such as Vulcan and PointStudio satisfied an immediate need, allowing people to become comfortable with new technologies, and ultimately embedding them into their everyday workflows.
As solutions matured alongside the industry, Maptek identified the need to integrate across various activities and stages of the mine value chain. Combining tools in meaningful ways targets both data integration and data interoperability.
The customer is central. User experience is much more than individual satisfaction around a particular tool.
Investing in how functionality can make teams more efficient overall resulted in the Maptek Workbench, which hosts all Maptek applications and enables shared data and add-ons.
Easily deployed add-ons can go live independently of product release cycles. An example of this flexibility is the haul road conformance tool that is available to Vulcan and PointStudio users, integrating with their different workflows. Interoperability between Maptek and third party products, such as PETRA FRAGx, Tagasoft's TSlope stability software and IMAGO core viewing tools are other examples.
All of the data in the mine value chain has to be passed along a route, stored somewhere and retrieved for use.
Data services
How do we manage the data being captured and eliminate silos?
Retrieving the volume of stored data and creating value from it remains a challenge to many. Maptek Data Systems (MDS) solutions target dynamic data capture, storage, management and access.
Imagine being able to harness a continuous flow of terrain data and output your surface topography at a given point in time! The up-to-date terrain model can be queried for any location or time for planning and reconciliation activities.
VulcanMDS, due for release later in 2021, expands on current data management tools, introducing greater flexibility in how that data is stored and accessed. It also streamlines the data interactions between Maptek applications.
Computing frameworks
Given the amount of data being captured by multiple sensors and systems on a mine, what about processing of mass datasets?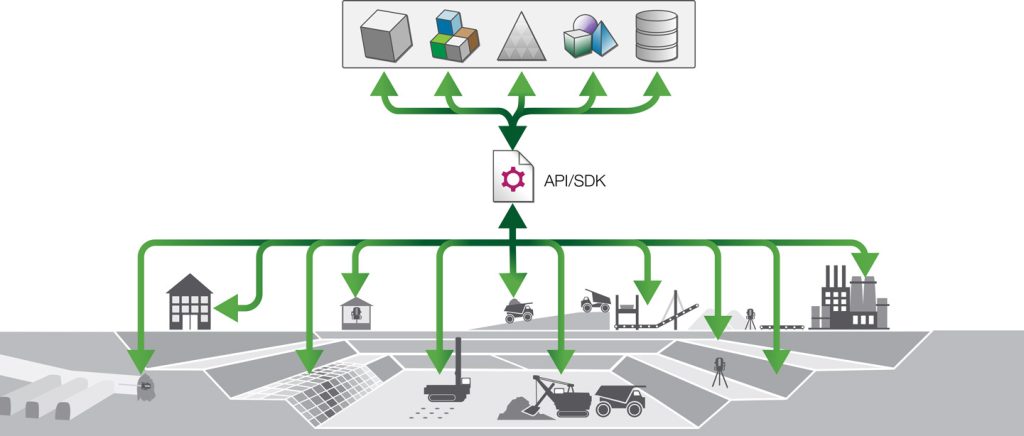 Maptek Compute Framework (MCF) speeds up and simplifies processes, shortening the time between data acquisition and value creation. It provides an environment to help evolve Maptek solutions using new technologies such as cloud computing and machine learning.
Computationally intensive processes that took a really long time, required top end machines, or tied up local devices are now run in the cloud. The process is secure and flexible for both Maptek and customers.
The first Maptek machine learning solution targets domain modelling prediction. DomainMCF unlocks investment value by improving a traditionally lengthy process and quickly uses all available data.
Block model to drill design automation enabled by in-development BlastMCF will help engineers in their decision making role, removing the tedium and inefficiency of passing files back and forth.
Data APIs
Customers can now use data APIs to connect with Maptek solutions, allowing teams to custom build their own applications and tools to interact with the Maptek suite. Data scientists and scripters can custom fit data passes to their workflows and solve specific problems.
Code-savvy engineers or geologists can use the Maptek data integration tools themselves, or our Technical Services teams can embed tailor-made tools.
The Workflow Editor on the Workbench automates workflows across Maptek solutions, scripted solutions and third party tools, allowing users to innovate with low-code or no-code solutions.
Maptek enables users with different levels of expertise to become citizen developers by embedding custom applications, workflows and tools to help their team or organisation.
Beyond streamlining individual or team work, this holistic approach to data management, cloud computing and machine learning creates repeatable and auditable processes that enhance automation.
Combining software tools in meaningful ways targets both data integration and data interoperability across various stages of the mine value chain
Maptek data systems and computing frameworks aim to speed up and simplify processes, shortening the time between data acquisition and value creation
An holistic approach to data management, cloud computing and machine learning creates repeatable and auditable processes that enhance automation