University and industry partnerships
Quality training, blended learning and industry mentoring are benefits of Maptek academic partnerships.
Turning a crisis into opportunity
Online courses provide skills and knowledge to prepare for mine engineering careers.
The Department of Mineral Resources Engineering of the University of Western Macedonia in Greece has always valued the integration of mine planning software in the undergraduate and postgraduate curriculum.
Maptek Vulcan has been used for more than 20 years in the Mining Informatics and Geostatistics courses of the Environmental and Geotechnology Engineering degree. It has now been introduced in the Mine Planning and Applied Geostatistics courses of the new Mineral Resources Engineering degree.
The Mining Informatics course was tailored to deliver all necessary mine planning knowledge to undergraduate students using comprehensive Vulcan design, analysis and modelling tools. These were applied through a set of exercises using real world data and well-established design and modelling procedures employed in the mining industry.
A textbook, Introduction to Mining Informatics Using Maptek Vulcan, has been written in Greek and is given to all third-year students.
'The COVID-19 pandemic and the associated limitations in the way higher education is delivered in Greece meant that our Department had to find a different mode of working with the students to ensure that they would still receive all necessary knowledge and gain the same level of mine planning skills', explained Dr Ioannis Kapageridis, Head of the Department of Mineral Resources Engineering.
At the Department's request, Maptek provided 30 academic Vulcan licences and online access to the software for students through Maptek Account. This allowed them to use Vulcan on their home computers and follow the courses through virtual classrooms.
Maptek Account also allows better monitoring of software usage and easier licence administration.
Many students took advantage of the online access and used Vulcan any day of the week, not just the day of the scheduled course. Maptek Account also offered flexibility in delivering the new course content.
At the end of the course, and after successfully passing the exam, the students were delighted to receive a training certificate from Maptek Europe General Manager, James Moncrieff.
'We hope that the training certificate and the skills and knowledge they have gained will be valuable assets for our students in their engineering careers', concluded Dr Kapageridis.

Integrated operations for complex resources
Maptek is supporting research scholarship initiatives to help shape the next generation of scientists and engineers.
Maptek has always placed a high value on contributing to education within the mining industry, supporting universities globally through the supply of technology and resources at no cost to help ensure the continued success of the industry as a whole.
Maptek is proud to be involved with the Industrial Transformation Training Centre (ITTC) for Integrated Operations for Complex Resources. The centre is supported by the Australian Research Council (ARC) and offers higher degree by research scholarships.
The unique training opportunity combines excellent support from academic and industry organisations, access to the latest technology and expertise in specific fields, and work placements to help shape the next generation of scientists and engineers.
The Training Centre aims to deliver the vital enabling tools – advanced sensors, data analytics and artificial intelligence – for automated, integrated and optimised mining.
Integration of all mining and processing stages allows intelligence across the value chain to be automatically generated, delivered and exploited.
Three universities (University of Adelaide, University of South Australia and Curtin University), two mining companies (BHP and OZ Minerals) and 16 mining equipment, technology and services organisations contribute to the initiative.
Maptek is providing a range of technology to the Training Centre for use in several projects.
One project will help create a model for fragmentation characterisation to improve productivity and safety in underground mining. Maptek will provide laser scanning equipment and expertise to assist with measurement requirements and, along with partner PETRA, will supply the FRAGx system to help characterise the rock.
Maptek will also contribute to two other projects that apply Maptek technology to help connect the mining value chain using sensors, to better understand the movement of ore through a mining production process in real time, and to use available downstream sensor data to help make real-time updates and improvements in orebody knowledge.
The focus on integrated operations – linking data, knowledge, decisions and systems across the whole value chain – is the direction the industry needs to be moving.
Maptek is pleased to support these research projects and looks forward to what the future holds!
Quality Training matters
Maptek and the University of British Columbia developed a blended training program for students during the pandemic.
Higher education worldwide was massively affected by COVID-19. Many universities increased their investment in blended learning, which combines on-campus education with Online Training components.
Outside partnerships can provide unique expertise to ensure students are engaged and have a meaningful learning experience in a virtual setting. Instructors may need additional support to explore these additional teaching modes.
The University of British Columbia (UBC) and Maptek worked together to create a blended training program for 73 students in the mining and geology departments.
Maptek and UBC have partnered in rewarding and fun learning experiences for students competing in the Canadian Mining Games. This shared history with the university meant Maptek was ideal for the project. Above all, Maptek brings experienced instructors to deliver lessons for different learning styles.
A blended training program was developed with success and safety in mind.
Maptek provided free educational licensing of Vulcan and PointStudio. Students gained experience using some of the most popular software in the industry for geological modelling, mine design, mine planning, mine scheduling, point cloud modelling and point cloud analysis.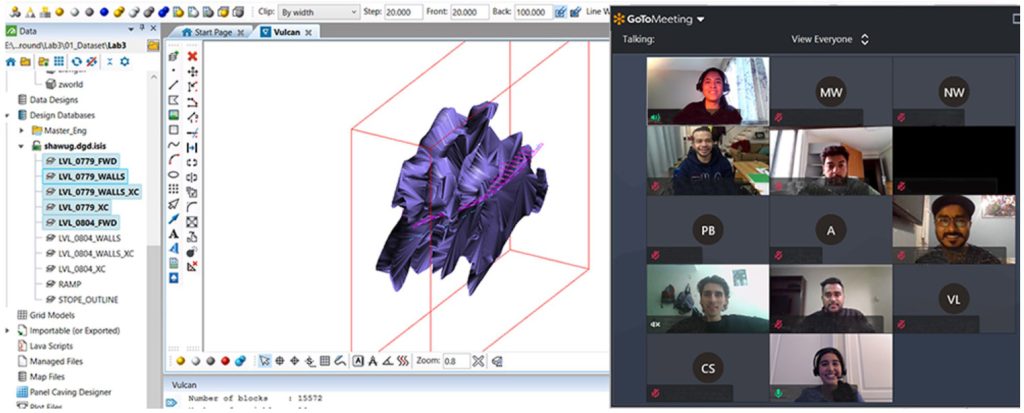 The main takeaways from the course included tasks such as:
QA/QC and data validation
Generating block models
Performing pit optimisation
Designing a pit
Reviewing geotechnical parameters
Using industry-standard general mining packages plays a huge role in accomplishing any of these tasks. These skills translate to success in a future role and also provide an advantage when job-searching.
Maptek's tailored approach included access to our Online Training portal to make it easy for everyone in the same location. Class material could be reinforced with relevant online courses such as Vulcan Essentials, Design Data, Drillholes and Databases, and Orebody Modelling. This solution was well-received by students as a fun, easy, and convenient way to learn.
Students also receive mentorship from their Maptek instructor, which is invaluable as they navigate the curriculum before joining the workforce as mining industry professionals.
Maptek understands that a student who receives a quality education can change the industry and even the world we live in for the better.
Read more: How Maptek and the University of British Columbia developed a blended training program for 73 students during a pandemic
A new Mining Informatics course and Vulcan textbook in Greek helped Mineral Resources engineering students gain knowledge and skills
Academia and industry have combined to offer access to technology, scholarships and work placements to help shape the next generation of scientists
A blended training program for University of British Columbia undergraduates supported remote study and industry mentorships