One to many mine measurement solutions
Maptek sensing systems are extremely safe and easy to use, collecting mining or large civil project data and feeding results and reports to downstream consumers.
Maptek has been providing mining dedicated laser scanners dedicated to mining since 2004, with many early models still in field use. Over the years the versatile vehicle mount and subsequent continuous Maptek Drive mobile solution have built on this foundation of trusted, survey-grade acquisition sensors for mining.
Drone technology and autonomous data capture have a role to play, but terrestrial laser scanners remain the most popular method for capturing high accuracy survey data.
The mining industry is eyeing developments around multiple smaller sensors on equipment. Streaming output to the Maptek terrain data management system will enable continuous, dynamic topographic updates to provide a live model of a mine.
The July 2021 mine measurement release from Maptek enhances user experience and outcomes through improved range, imagery clarity and quality, and speed of data acquisition.
Developing hardware alongside purpose-built processing software allows users to dynamically interact with data acquired in the field, and ensures that resource, recovery and conformance reporting quickly flows through to guide planning and production teams.
Listening to user feedback and research into the latest sensing technologies has resulted in a raft of new and improved tools for automated mine measurement.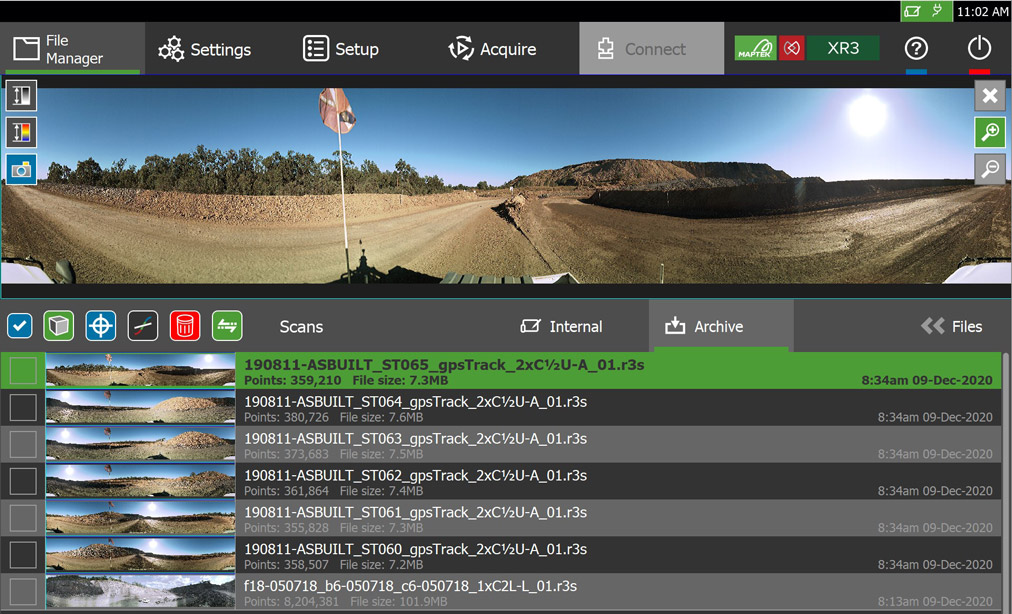 In-field scanner control
An exciting development sees the Maptek FieldHHC released as a product in its own right.
FieldHHC has long been the surveyor's most trusted field assistant. Following standard survey set up and scan georeferencing, it enables users of Maptek systems to enjoy the best survey experience.
FieldHHC combines a powerful, simple GUI with impressive, intuitive features that allow users to control their workflow. The user-friendly interface offers:
Field registration
Dynamic 3D view
Immediate view of scans
Measuring tools
Design conformance
RTK GPS integration
Multi-language support
A new add-on design conformance tool on the controller helps surveyors instantly recognise in the field whether pit walls are conforming to design. This allows issues to be resolved more quickly rather than waiting for office processing. Dynamic reporting and cross section output means everyone stays up to date.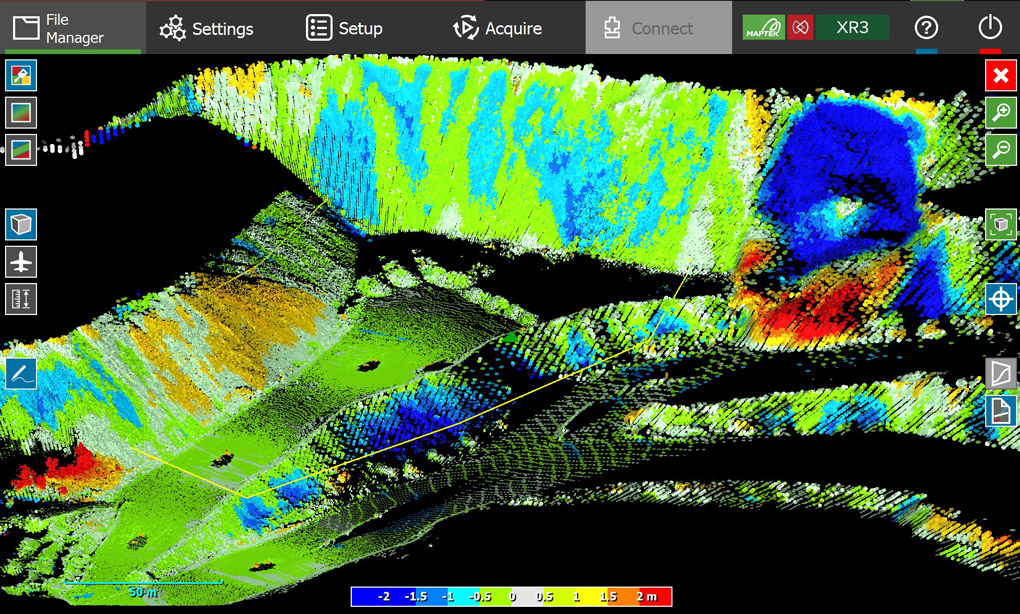 R3 MkII improvements
The Maptek R3 MkII laser scanners deliver incremental improvements on range, image quality and speed of scan acquisition. The new models can be ordered for delivery from July 2021 and include:
Improved LIDAR quality
Levelling sensor improvements over various temperature ranges
Increased number of laser returns to help improve data quality in dusty conditions
Improved scanner statistics for servicing requirements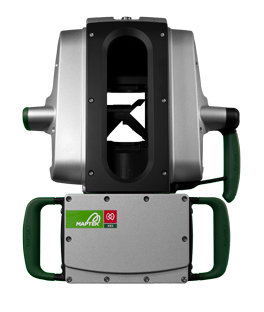 Dual window scanning
The new XR3-D MkII laser scanner is another exciting development. Conventional terrestrial laser scanners capture data from one window, spinning to achieve a 360° field of view.
The new XR3-D MkII halves the scanning time through a dual window system. It captures data from both sides simultaneously, with the scanner head only needing to spin 180°. This approach means even more efficient scanning from the safety of vehicles.
For daily processes, survey crews can scan surrounding terrain in both directions while travelling into a pit to capture highwall information and stockpile data. There's no need to return to the pit at another time as haul roads, gradients and infrastructure have already been acquired seamlessly.
Software updates
Software updates improve the automation of daily tasks and support the R3 MkII laser scanners.
Maptek PointStudio updates include new and enhanced functionality to:
Colour line by grade
RQD feature on ScanLine tool
Display line as elevation profile
Set up multi-dimensional filters
Requested improvements to the inter-ramp conformance reporting tool include:
Automatic creation of ideal toe and crest strings
Apply design toe/crest string as conformance parameter
Specify the location of collapsed sections spatially
Supported in custom workflows
Users can easily define coordinate systems from Python and associate rasters to a surface.
Simplified monitoring
Maptek Sentry 2021, now on the Maptek Workbench platform, delivers enhanced interoperability for monitoring, analysing and reporting on surface movements.
A new ribbon interface in Sentry Office increases the visibility of functions and enhances the user experience. Scans can be easily transferred between Sentry and PointStudio and zones created in one application appear in the other, for easier analysis. Sentry scans can now be coordinated to mine grids in the field, streamlining interoperability. Sentry databases now contain single scenes to improve data management and enhance performance.
New XR3-D MkII laser scanner captures data from dual windows, halving the scanning time for supremely efficient scanning from the safety of vehicle
R3 MkII laser scanners deliver improved range, image quality and speed of scan acquisition for survey tasks at mines and large civil projects
FieldHHC combines a powerful, simple GUI with impressive, intuitive functionality to streamline user workflow