Technology innovation award
The Maptek 2022 Woman in Resources Technological Innovation award honours work on a Coarse Ore Flotation circuit for the Cadia Valley Operations in New South Wales.
Senior Plant Metallurgist Emily Jaques from Newcrest Mining has won the 2022 Woman in Resources Technological Innovation award for her work on the Coarse Ore Flotation (COF) circuit for the Cadia Valley Operations in Orange, NSW.
A passionate role model for the resources sector, she promotes technology and innovation across the site, business, industry and local community.
Jaques joined the Newcrest Graduate Program with a Chemical Engineering degree from the University of New South Wales. In her role as the Concentrator One Plant Metallurgist she was responsible for the Cadia COF circuit and the opportunity to implement value-driving initiatives.
The COF project involved recovering coarse composite particles that normally report to the waste stream.
'The circuit was the first application of the Hydrofloat™ technology for sulphide recovery in the world – conventional flotation technology could not recover the valuable particles we were targeting,' said Jaques.
As the metallurgical/operator interface project leader, she provided opportunities to female vacation students and graduates to work with the new COF technology.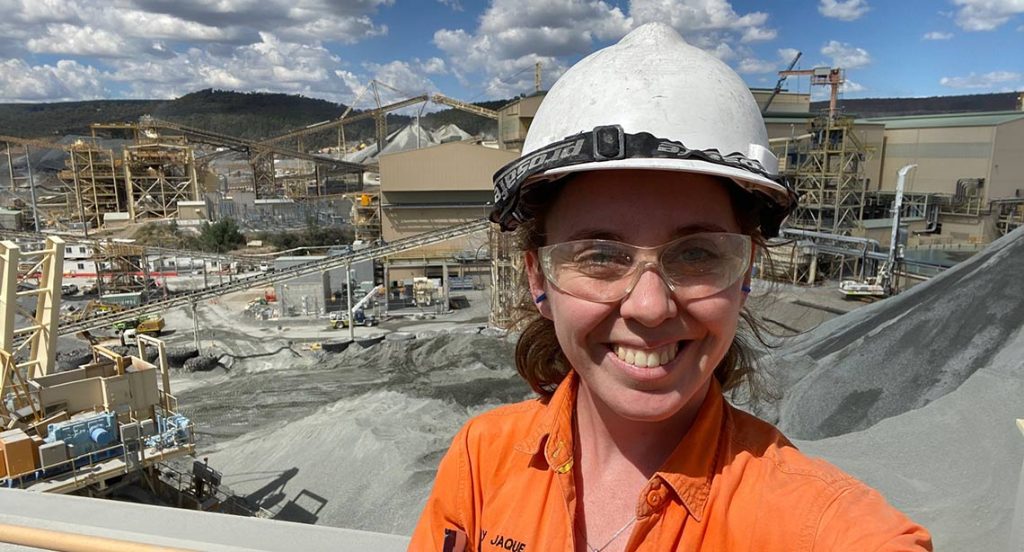 Jaques enjoys reaching out to female school students and sharing her achievements to break down stereotypes that may prevent them from considering careers in mining.
Participating in the AusIMM WIM mentoring program empowered Jaques to connect with other women in the industry. She draws on her experience to help orient new people to site and support them as they mature in their roles.
'Innovation to me means applying novel and creative solutions to problems that previously appeared unsolvable.'
Other finalists in the Maptek Technological Innovation category in the BHP 2022 Women in Resources Awards, hosted by the Minerals Council of Australia, were Kim Tan, Kimberley Robertson, Kirra Harris and Gemma McGoldrick.
Emily Jaques, Senior Plant Metallurgist for Newcrest Cadia Valley Operations won the Technological Innovation Category in the BHP Women in Resources Awards
Her work as Project Leader for a Coarse Ore Flotation system to optimise the concentrate grades from three flotation circuits led to the win
Other notable achievements include mentoring graduates, helping orient new site staff and sharing career experiences with women and girls in the local community