University partnerships
Maptek runs online classes for mining and exploration geology students, and awards innovative mining engineering projects.
Linking academia with industry
Camborne School of Mines (CSM) was founded in Cornwall, UK as a specialist mining school in 1888, and merged with the University of Exeter in 1993. CSM provides undergraduate, postgraduate and research degree programs in Earth Sciences.
Since 2018 Maptek Edinburgh has conducted classroom training in Vulcan and Eureka software for around 60 MSc Mining and Exploration Geology students. The students spend the week learning geological and block modelling techniques, practical skills which will help prepare them for work in industry.
As a result of COVID-19, classes switched to online training, including Q & A sessions with a Maptek instructor. The students were enthusiastic and keen to learn software skills. The online delivery proved successful for the large group, and will continue in 2021.
'CSM has been using Vulcan for several years, and considers skill development in industry-leading visualisation and modelling packages a key objective of postgraduate MSc teaching programs in mining-related disciplines,' said Benedikt Steiner, Senior Lecturer in Exploration and Mining Geology.
'Maptek Senior Geologist, David O'Neill is instrumental in maintaining a close industry–academia link, and has enthusiastically provided numerous training and seminar sessions for CSM students, for which we are very grateful,' he added.
'I've thoroughly enjoyed my project and it's really enhanced my geological modelling, resource modelling and estimation skills. Having used a range of software now, Vulcan is by far my favourite,' commented Mining Geology masters student, Hayden Eyers.
Modelling for success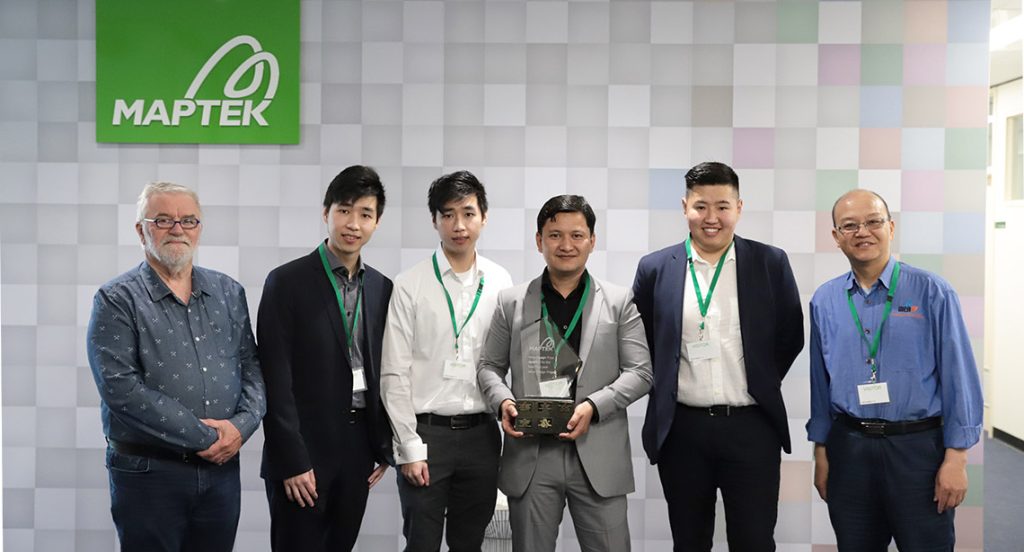 Claiming the 2020 Maptek Mine Design Prize was an important accomplishment for the winning team of Zulfiqar Ali, Iven Tan, Joven Tan, Gal-Erdene Battsengel and Bing Liu. The annual competition is open to final year University of Adelaide Mining Engineering students.
This year's project was a life of mine plan for a copper and gold resource. It required evaluation of data accompanied by research to determine economic parameters suitable for the chosen style of mining.
A combination of open cut and underground mining was needed to maximise the commercial exploitation of the resource.
Maptek Senior Technical Sales Specialist, Steve Sullivan said the winning team provided the best integration and transition between the open cut and underground mining phases of this project.
'Their research provided pragmatic selection of mining equipment within a geotechnically safe operating design,' Sullivan said.
Maptek founder Bob Johnson presented the award, and spoke to the students about the importance of getting geological models right.
The prize was first introduced in 2010 and is part of the long history Maptek has of supporting students and academic institutions.
---
Learn more about Maptek University Partnerships: www.maptek.com/university