Rethinking design in development
Maptek staff challenged themselves to think about solution design and development differently in line with our principles to be courageous and walk in our customers' shoes.
The first Maptek Design Challenge encouraged developers, product strategy managers and designers to rethink the way they approach problem solving.
In Adelaide, South Australia, teams comprising staff across different roles spent a day tackling various problems with a view to creating great user experiences when designing solutions, rather than purely focusing on features and functionality.
Team Zinc took out top spot for a data analysis solution for a mine scheduling problem in Maptek Evolution.
Subject matter expert (SME) and Senior Mining Engineer Allan Kerridge expressed how even current scheduling problems are too large for a single person to hold in their head.
Data analysis is a hugely important component of all of Maptek products, with the type and frequency of data collected only increasing.
Team Lead Luke Berry said they found it invaluable to consider design features in depth with SMEs during the challenge.
'We chose to tackle iterative processes as they are a key enabler for customers working through scenarios towards the optimum answer,' said Berry.
Team Zinc found that value can be added by identifying and showing the right piece of information at the right time, but true customisability will always provide additional value.
The team created a timeline view of all changes made throughout the Evolution scheduling processes and made it highly customisable, allowing users to track changes in key values while working towards their outcome.
Organisers of the design challenge on the day, Global Development Strategy Manager Will Reid and Global Design and Brand Manager Simon Hanson reported favourably on the process and the outcomes.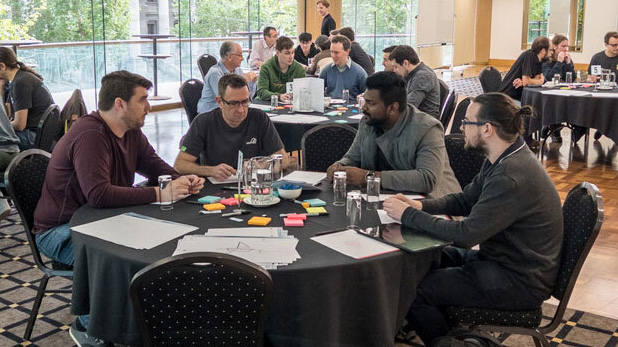 'This workshop represented an opportunity for many sides of the Maptek business to get together in the same room and explore new ideas. It yielded several solutions that would otherwise not have been considered,' said Reid.
'I was interested to see the mixture of ideas – some were big and others could be classed as small quality-of-life changes – that can be easily implemented for potentially large positive impact for customers,' added Hanson.
Maptek plans to run additional virtual and hybrid multidisciplinary design workshops in other regions, outcomes to ultimately benefit the Maptek global customer base.
Developers, product managers and subject matter experts combined in teams to tackle various software development problems
Multidisciplinary approach focused on providing a superior user experience alongside features and functionality
Winning project proved the value in identifying and showing the right piece of information to software users at the right time