Unfolding the potential of modelling
Maptek technical staff used their imaginations to stretch the potential of DomainMCF for improving geological modelling outcomes.
Maptek DomainMCF Team Leader Andrew Myers won the inaugural staff geology challenge for a project that explored whether incorporating unfolding into the modelling process would improve resultant models.
A staff category held alongside the external Geology Challenge competition in November attracted entries from software engineers, geologists and a mining engineer.
The challenge was to exploit the machine learning smarts of DomainMCF by applying it to previously unsolvable problems.
Myers devised his project on 'Bending DomainMCF' to discover if the modelling engine could be used to model coordinates, and if so could that outcome be used to define coordinate transforms.
Noting that DomainMCF can model the trend of a transformation, Myers found it tends to over-smooth surfaces. He then wrote an 'Unroll Surface' script that delivered an incremental unfolding mechanism.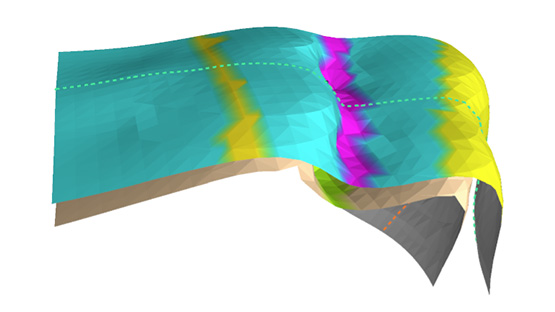 'I was surprised that I got close to what I wanted to do. My next step is to investigate whether the new approach to unfolding has potential for evolving into a new tool in Vulcan GeologyCore,' said Myers.
Another software engineer entry applied DomainMCF to generate 2D images and animations, revealing that the engine does not need to use all the data; a random 80% sampling gives similar results to using 100%.
Turning to the geologists, Steve Sullivan tackled preparing oriented structural measurements for incorporation with drill and sample data as input for domain modelling. What surprised him was how difficult it was to take seemingly simple data and develop a process to make it usable in DomainMCF.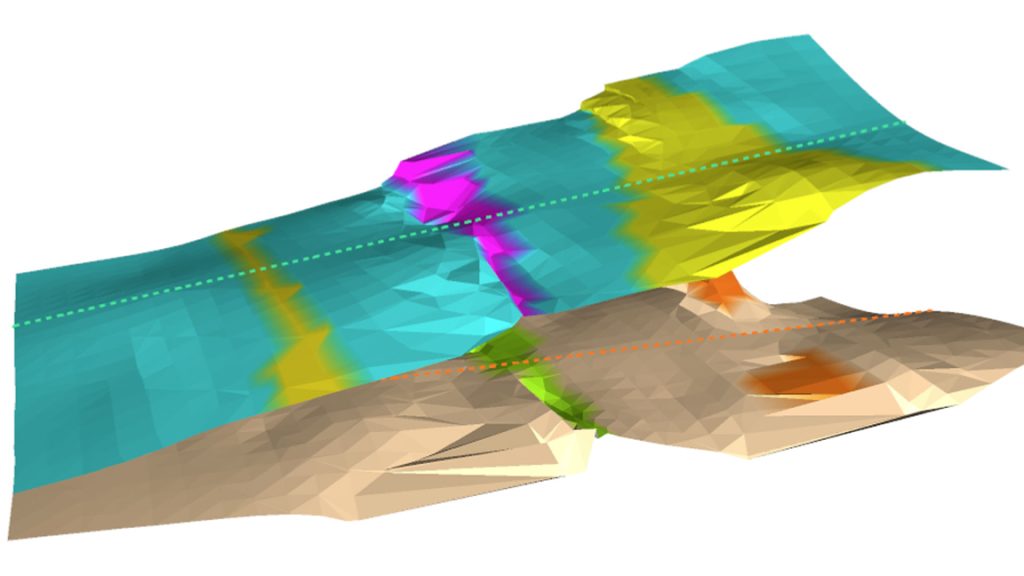 'One learning of my presentation was to trigger development of user-friendly tools to achieve the same or better outcomes!' said Sullivan.
In another geology-focused presentation, Senior Technical Lead Richard Jackson investigated whether incorporating an additional domain model that stores structural anisotropy can inform the modelling.
He concluded that DomainMCF is successful where data is 'less' and geology more complex, making better models that use more of the geological information already available to geologists.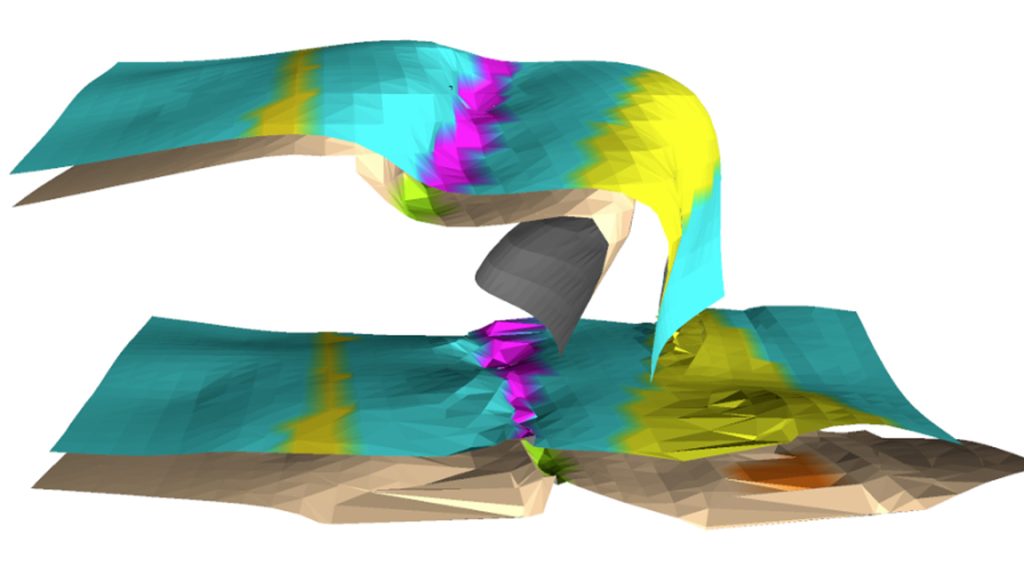 Jackson initiated the geology challenge concept in 2021 and is impressed with the enthusiasm of customers and staff.
'The ability to view data in both folded and unfolded space in such an easy manner is a very exciting prospect,' he said.
The outcomes from the internal challenge highlight how far the DomainMCF engine can be stretched when users think outside the box.
A novel unfolding project using machine learning won the staff category of the 2022 Maptek Geology Challenge
Another project revealed that DomainMCF can produce quality image output from a random 80% sampling of data
Internal projects highlighted how far the DomainMCF engine can be stretched when users think outside the box