Automated Pit Designer
Vulcan 2020 sees the release of the second iteration of the Automated Pit Designer tool.
Maptek Vulcan Automated Pit Designer (APD) is an open pit mine design tool that allows mine planners to rapidly iterate between designs based on output from pit optimisation runs along with dynamic manipulations including haulage ramps.
Major enhancements to APD include the addition of dump design functionality, ramp insertion and the ability to dynamically modify the pit. The user interface now provides a more intuitive design experience.
The addition of ramps and dynamic pit editing provides users with a full function design tool that takes the results from their pit optimisation run or previous design iterations and generates an updated design.
Traditionally, when engineers need to design pits with single or multiple ramps, the iterative process can take extended amounts of time and effort. If the desired results are not achieved, then the process must start again.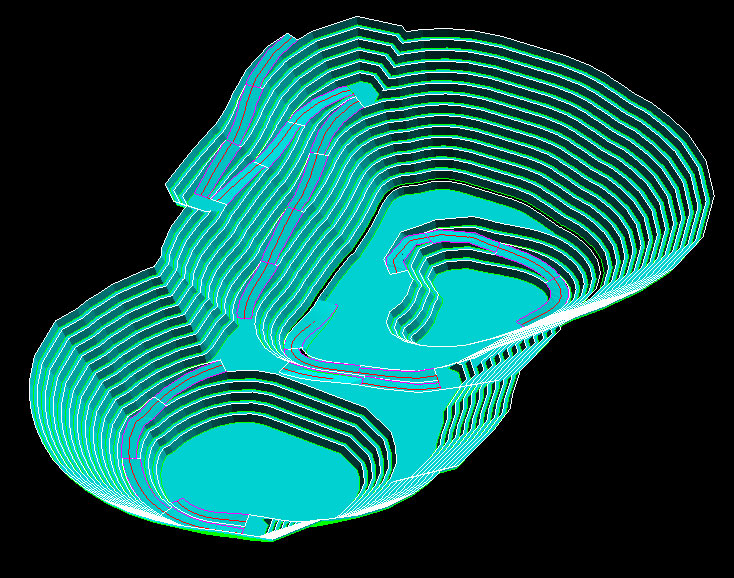 APD decreases that turnaround time dramatically, allowing users to quickly make changes to ramp and wall locations so that the most desirable solution is identified in a short time. This in turn reduces the overall time to proceed from pit optimisation to a final design, facilitating long term mine planning analysis.
Increased productivity for engineers means they can devote more time to evaluating different scenarios. This results in a faster feedback loop throughout the design process and delivers quicker updates to the scheduling solutions.
These enhancements represent the springboard for automating the design process. Future development plans include optimised ramp solutions as well as streamlined workflows throughout the mine planning cycle.