University partnerships
Maptek supports universities, helping equip students for future mining careers.
In January 2020, professional practice and training courses were offered in Viña del Mar, Chile at no cost to students.
Claudia Monreal, Geostatistical Mining Engineer and Trainer, told us that Maptek intern programs have been a great success among the major Chilean Universities.
The course covering Maptek tools and applied mining examples is very popular and 200 students apply every year. The 40 who are selected to participate are evaluated every week and cannot continue the intern program if they fall below a 75% grade.
'We provide expert tuition and software experience hoping for future skilful users and to raise their employability in a very competitive market,' said Monreal.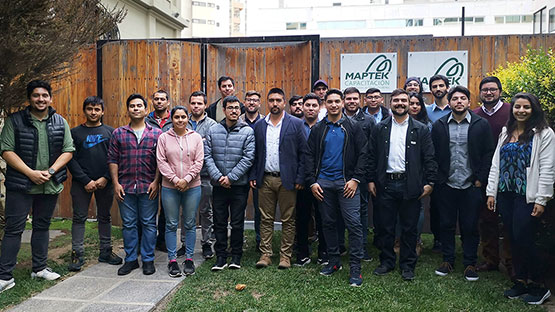 Participating students from universities across Chile: Universidad Católica del Norte, Universidad Santo Tomás (Viña del Mar and Santiago), Pontificia Universidad Católica de Valparaíso, Universidad San Sebastián, Universidad de Talca, Universidad Andrés Bello
Homero González, Post-sales Mining Engineer and Trainer, said:
'This was my first time leading the course, and it was totally enriching. It is not easy to train 22 participants in the theory and software and also pass on the knowledge gained from field experience. Students in their final years before facing the working world have many queries and concerns of different kinds.'
The four-week course ran from Monday to Friday and started with basic Vulcan. Several students had Vulcan knowledge through the Maptek agreement with universities, however it helped them to learn even more and resolve some important fundamental questions.
In the second week students were keen to learn about Open Pit Mine Design and Optimisation and analyse mine planning issues.
The third week's training in Underground Mine Design resulted in great student projects, which impressed González and his Maptek colleagues.
Claudia Monreal taught Resource Estimation in the final week. The students were very grateful for this opportunity to learn from an acknowledged expert in the subject.
González concluded that the challenge to train the 'next generation' is taken with great responsibility. 'We need to adapt how we use the software in this new era that we are experiencing.'